Tesla Analysts Are Casting Doubt Over Elon Musk Plan to Go Private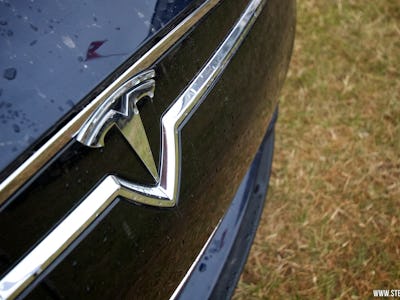 Flickr / davidgsteadman
Elon Musk has a plan to take Tesla private, but analysts aren't buying. The CEO unexpectedly claimed on Twitter earlier this month that he'd secured the funds to take his company off the stock exchange, but a further explanation suggested the funding was not a done deal.
In an analyst note seen by Reuters and published Monday, JPMorgan analyst Ryan Brinkman stated that "our interpretation of subsequent events leads us to believe that funding was not secured for a going private transaction, nor was there any formal proposal," and while the firm "does appear to be exploring a going private transaction […] we now believe that such a process appears much less developed than we had earlier presumed." Ivan Feinseth, analyst at Tigress Financial Partners, said that "the lack of process to [Musk's] announcement has now caused governance and competency concerns which are starting to snowball."
Musk's tweet took investors by surprise, leading to speculation about where the funding was coming from. He wrote in a follow-up blog post, one week after his August 7 Twitter announcement, that he left a July 31 meeting with the Saudi Arabian sovereign wealth fund "with no question" that a deal was possible. Reuters reported on Sunday that the fund, with $250 billion in assets, was also talking to competitor Lucid Motors about claiming majority ownership in a $1 billion deal.
The $420 price suggested by Musk was a 20 percent premium over the $350 stock price on the day of the announcement. However, in the wake of analyst concerns, the price reached a low on Monday of $288. JPMorgan's analyst note slashed the stock target price from $308 to $198. A $420 valuation would place the company at over $70 billion total value, but Musk claims that around two-thirds of investors would likely choose not to accept the buyout and remain investors in a private Tesla company.
Musk is now expected to provide firmer details of his plan to a three-person committee made up of board members. This team will evaluate the deal before choosing whether to endorse.
If successful, Tesla could go private and ditch its title of the most betted-against stock on the American markets.