Nora's Costume in 'The Flash' Season 5 Confirms Her Speedster Identity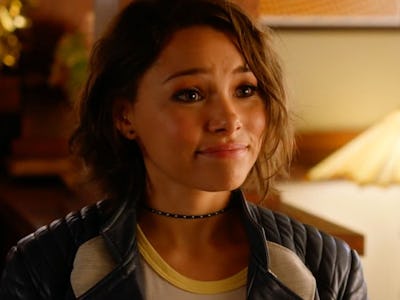 The CW
The Mystery Girl from The Flash Season 4 revealed herself as Iris and Barry's daughter from the future in the epic finale, but a newly leaked set photo of her superhero costume for Season 5 confirms that she assumes the superhero identity of their granddaughter from the comics, Jenni Ognats. So rather than one-half of the Tornado Twins, Nora is actually XS, and she's much more like Jenni Ognats than she is Iris and Barry's daughter, Dawn, in the comics.
On Friday, photos leaked from the set of The Flash Season 5's production in Vancouver, and they showed Jessica Parker Kennedy's Nora West-Allen — and her stunt double — suited up in the character's supersuit. The insignia on the chest of the suit is identical to that of XS, which confirms what the show's cast revealed at San Diego Comic-Con: Nora West-Allen's superhero codename is XS.
Unlike the Flash's signature lightning bolt symbol, the XS symbol looks more like a speedster's trail leading to a point of impact at the bottom. Here's Jenni from the comics, who sports the exact same symbol as Nora.
In the comics, Ognats is the daughter of Dawn Allen, who carries on the tradition of the family speedster in the 31st century. So, in a way, the Nora West-Allen of The Flash TV show has truly become an amalgamation of both Dawn and Jenni. Calling her Nora makes more sense so as to pay homage to Barry's mother, who's been a looming presence on the show since the very beginning.
The Flash's Season 4 finale did offer the slightest glimpse of Nora as her superheroine alter ego when she helped her father punch a falling satellite out of the sky. She also wore the jacket when she introduced herself to Team Flash at Joe West's house. But we still haven't gotten any official photos or footage of the full costume. We only have the set photos to go off of.
The bespoke black-and-white jacket that Nora wears is Iris West-Allen's in the present day. Iris wore it earlier in Season 4 when she accidentally gained Barry's speedster powers for a day and had to save the city. So, at some point in the future, she hands over the jacket to her daughter.
The Flash Season 5 will premiere on The CW Tuesday, October 9 at 8 p.m. Eastern.
Rewatch the San Diego Comic-Con trailer for The Flash Season 5.