Alphabet Launching A.I. Speakers With Display for Holidays
More room to expand the Google Duplex universe? 
by James Dennin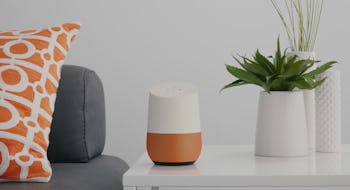 Google
Google has a swanky new speaker in the works. That's according to a new report that indicates the company plans to roll out a new smart speaker that combines its powerful A.I. with a visual display in time for the holiday season.
The device is expected to look a lot like the Amazon Echo Show, according to the reports, first published in the Nikkei Asian Review. The Echo Show is a video-enabled smart speaker that launched last year, to mixed reviews.
Google is betting big on the device. According to the Nikkei report, the Echo Show sold relatively slowly, shipping a little more than 315,000 units last year. According to sources in Google's largely Taiwan-based supply line, the company expects their speaker to move 3 million out of the first batch. That suggests that a simple screen won't be all that this new speaker brings to the table.
What's in Store for Google Duplex?
Google already supplies some similar technology to partners who have developed display-enabled smart speakers, but has yet to launch one of its own. Smart speakers are a strong point in Google's hardware division, whose smartphones lag far behind Apple in terms of marketshare. Part of that has to do with Google's A.I. muscle, which enables its voice assistants to accommodate much more complicated vocal commands.
At a recent press demo for its newest voice assistant, Google Duplex, the company's A.I. demonstrated that it was capable of using natural language to book restaurant reservations and hair salon appointments on your behalf. The assistant can parse out meaning despite the "ums" and "ahs" that are inevitable in normal conversation, and Google thinks the potential is there to not only off-load mundane phone calls but to someday eradicate language barriers.
It's not clear yet when Google Duplex will launch, and if it will be ready in time for this new speaker's reported launch ahead of the holiday shopping season. At its most recent demo, executives told Inverse that the company planned to continue testing Duplex over the course of the year.
The speaker wars are heating up. One of the biggest surprises at the recent Samsung UNPACKED conference was the announcement of a new smart home system enabled by its own A.I. enabled assistant, named Bixby.