How to Prepare for 'Fortnite's Season 5 Week 6 Challenges
Start practicing your driving now.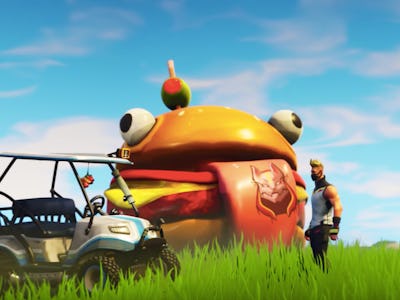 Fortnite
It's only Tuesday, but the latest batch of Fortnite: Battle Royale challenges have already leaked. We actually covered the initial news (and the mystery behind it) last week, but with Season 6 challenges quickly approaching here's a quick guide on what you can do to prepare for the update (presumably version 5.3).
The Fortnite Week 6 challenges leak comes to us from data miner @FNLeak, who shared the upcoming tasks on Twitter on August 9. They include some pretty standard challenges, along with a few that are a little more mysterious. For example, what exactly does Epic Games mean when it says we'll have to complete five "timed trials?"
Our best guess is that this has something to do with driving an ATK (All Terrain Kart) around the new racetrack that was added to the map for Season 5. There's no mention of doing this is in different matches, so you can probably knock out all five at once if you're lucky. Then again, there's sure to be plenty of interest when the Week 6 challenges first hit. So maybe wait until later in the season for this one. In the meantime, you can always practice your driving by grabbing an ATK at the golf course on the North side of the map.
Another mysterious new challenge is the one that asks you to "Search where the Stone Heads are looking." It turns out that those Easter Island-style statues scattered across the map actually point to a single spot near the center of the island in Salty Springs. So you might want to scope out the area if you haven't already.
Other Fortnite Week 6 challenges are more straightforward. Start practicing your headshots so you can claim those Battle Stars and spend a little time in Lonely Lodge so you know where the treasure chests are hidden. You could also try practicing with the Minigun and Light Machine Gun.
Then again, considering that Fortnite Season 5 doesn't end until roughly September 27, there's really no need to stress. As long as you play enough, you should complete most of these challenges without even thinking about it.
Follow Inverse on Twitch for more episodes of Squad Up: The Fortnite Talk Show.