Everything You Need to Know Ahead of Nintendo's 'Smash Bros.' Direct
Start time, roster rumors, and more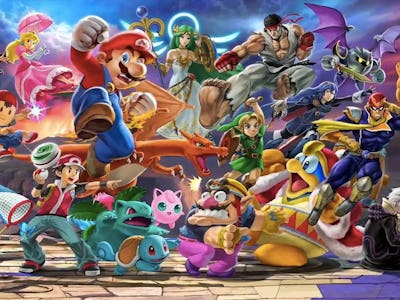 Nintendo
After two months of agonizing silence, Nintendo is finally set to reveal some fresh details about Super Smash Bros. Ultimate in a Direct livestream that kicks off later today. We're not sure what to expect, but the pre-recorded video could divulge new characters for the Ultimate roster, along with new stages, new modes, information on how online play will work, and more.
Here's everything you need to know ahead of the Smash Bros. Ultimate Direct livestream, from roster rumors to start time.
Super Smash Bros. Ultimate Direct Livestream: What time does it start?
Let's get this out of the way first. Nintendo's latest Direct presentation kicks off at 10 a.m. Eastern. These things typically run for a tight 30 minutes. So you'll want to make sure you're ready at 10 on the dot. You might even want to set an alarm for five minutes early so you don't miss a second of it, though you can always re-watch the video afterward if you do.
As for the livestream itself, you can watch that right here:
Super Smash Bros. Ultimate* Roster: New Character Rumors
There's a lot of different things Nintendo could reveal at its Smash-focused presentation, but the one thing fans are really looking for is new characters. Smash Bros. Ultimate already features a pretty packed roster, but that's mostly because the company decided to bring back all the old characters from previous versions of the game. However, rumor has it that we could still get a few fresh additions.
I already wrote up a full rundown of Super Smash Bros. Ultimate roster rumors earlier this week. However, if you want a super-condensed version, then the important thing to know is that the two most likely new characters are Isabelle (Animal Crossing) and Simon Belmon (Castlevania). We're also expecting a new Gen 7 Pokémon — we just don't know which one — and maybe, if we're lucky, Nintendo will take pity on us all and put Waluigi in the game as a playable fighter.
Super Smash Bros. Ultimate* Direct Livestream: Bingo!
Finally, if you want to spice up your Direct viewing experience, check out this Super Smash Bros. Ultimate bingo that was shared on Reddit. Just don't get excited and shout out "Bingo!" if you're secretly watching at work.
Super Smash Bros. Ultimate launches December 7 for Nintendo Switch.