Senator References the "This Is Fine" Meme in Election Interference Hearing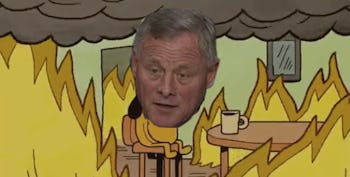 Memes have gone mainstream. No, it's not just your dad posting watered down 4chan images he found on r/TheDonald to his Facebook — politicians have gotten into the action too.
While certainly not the first elected official to post or reference a meme, Senator Richard Burr (R-NC) is the latest representative to call out one of our faves in a particularly ironic fashion
In a Senate hearing on foreign interference in US elections through social media, Senator Burr analogized apathy towards the country's current vulnerabilities to the dog in the "this is fine" meme, saying "Some feel that we as a society are sitting in a burning room, calmly drinking a cup of coffee, telling ourselves 'this is fine.' That's not fine."
Besides the fact that Burr was making a reference to an essentially visual art form through spoken word, the call out was particularly ironic given the nature of the hearing, which pertained to Russian interference in the US election committed primarily through political memes posted to social media.
Burr has pushed social media companies and fellow lawmakers to address vulnerabilities in the US election system created by social media, illustrated by the massive Russian attempt to interfere in the 2016 election.
At the hearing, Burr asked social media experts, "How do you keep the good, while getting rid of the bad?"
For now, it seems like prevention is still in the hands of social media companies.
On Tuesday, Facebook announced that it had removed 32 pages and accounts that appeared to go to great lengths to coordinate interference in the 2018 election. While they did not specify who was responsible for the accounts, the New York Times reports that the tactics employed were similar to those of the Russia Internet Research Agency, who has been blamed for interference in the 2016 election.
The announcement was at once an attempt by Facebook to assure regulators that it was being diligent about patrolling the site for potential interference efforts, and also a disturbing reminder that parties are continuing their efforts at political manipulation.
Despite recent efforts by social media companies to admit that they pose a problem, Tuesday's announcement by Facebook should be a reminder that maybe we are in fact that meme. This is not fine.
If we're lucky, the panel will continue to push social media companies to address the problem. During Wednesday's hearing, the committee's top Democrat, Mark Warner, announced that top social media executives would speak before the panel on September 5, 2018. Maybe then they'll feel the flames.