How a "Deathbed Photo" Sparked New Talk of War Photographer Gerda Taro
How a photograph pushed her legacy back into the spotlight.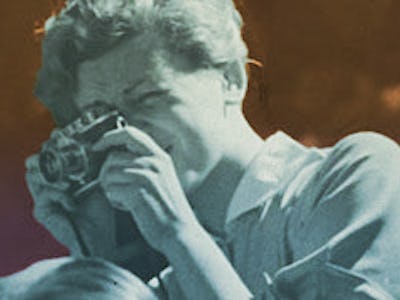 Google
It's wild to think that an old family photo posted on Twitter could provide new insight for historians about a war photographer's death in Spain in 1937, over 80 years ago. But that happened in January this year, when a photo believed to be of Gerda Taro, a groundbreaking photojournalist, was tweeted by the son of the volunteer doctor who treated her on her deathbed.
Today's Google Doodle commemorates what would have been Taro's 108th birthday with a painted replication of the first woman to die covering the frontline of any war. Taro died while documenting the Spanish Civil War.
You May Also Like: Gerda Taro: 3 Fascinating Books on the Life of the Anti-Fascist Heroine
How Does This Year's Photo Evidence Shape Taro's Story?
John Kiszely, a former British soldier and Visiting Research Fellow with the University of Oxford Changing Character of War Programme, posts a lot of historical photos on his Twitter account. So a black-and-white photo of his father, Dr. Janos Kiszely, tending to a patient while volunteering with the International Brigades, was not out of the ordinary on his feed.
But the replies quickly flooded in that the woman, with her cropped dark hair and finely-plucked eyebrows, matched the resemblance of Taro as well as the circumstances surrounding her death. The back of the photograph is captioned with a mix of Spanish and English that appears to have been written much later after the photo was taken:
Brunete Front, June 1937 (in Torrelodones) Mrs Frank Cappa = of Ce Soire of Paris, killed at Brunete.
That matches up with what historians know happened to Taro. A car she was riding in during a fierce battle northwest of Madrid was struck by a tank, which knocked her off the vehicle, and she died that night in a hospital. Additionally, Taro, who was German but carried a Polish passport, published photographs in the Ce Soir newspaper in France and had a romantic and professional partnership with future Magnum agency co-founder Robert Capa.
But the details on the back of the picture don't completely match up, considering that Taro died in July, not June, and in a town 15 miles away from Torrelodones. So while it's likely a previously undiscovered photo of Taro, it requires closer identification to be a sure match.
What Were Gerda Taro's Notable Accomplishments?
Not only was Taro the first female war photographer to die covering the front line, she is considered the first female conflict photojournalist. Her stunning images of the Spanish Civil War were taken with a 35mm camera and often misattributed to her partner Capa, since the two used the name jointly as a pseudonym.
Taro's early life was plagued by antisemitism, as she was raised in a leftist Jewish household, and her family scattered once Hitler rose to power. Taro even spent time in jail for distributing anti-Nazi propaganda, and she changed her name from Gerta Pohorylle to avoid suspicion. Her speed and size earned Taro the nickname "little red fox" while shooting, and despite an untimely death, her legacy has lived on past her years.