How Fearless Photographer Gerda Taro Got Her 'Little Red Fox' Nickname
The photographer died in the Spanish Civil War.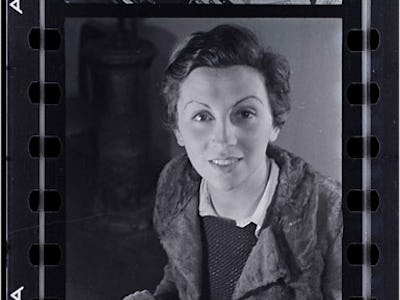 Flickr / urcameras
Google paid tribute to Gerda Taro, the German photographer whose work captured the Spanish Civil War in incredible detail, with a commemorative Wednesday homepage doodle on what would have been her 108th birthday. Taro quickly established a name for herself as a conflict reporter and was regarded as the first female journalist to cover the front line of war.
Taro was born in 1910 under the name Gerta Pohorylle in Stuttgart, Germany and attended a Swiss boarding school. Raised in a left-wing Jewish household, Taro spent some time in prison for distributing anti-Nazi propaganda. Hitler's rise to power in 1933 pushed the family to scatter, with her parents moving to Palestine, her brothers leaving for England, and herself moving to Paris. She met Andre Friedmann, who had left Hungary for similar reasons, in Paris in 1934. The pair later changed their names to avoid anti-Semitism, with Friedmann changing his to Robert Capa and Pohorylle changing hers to Gerda Taro, an homage to Japanese painter Taro Okamoto.
See also: 11 of the Coolest Instagrams from Holi, India's Colorful Festival
The pair worked tirelessly to cement a reputation for themselves in photojournalism. Taro's strawberry blonde hair, speed, and size earned her the nickname "little red fox." She was at the forefront of a photography revolution, as the 35mm camera made transporting equipment easier than ever and enabling photographers to capture action shots. Taro's reputation was mixed, though: Her photos were sometimes misattributed to Capa, in part because the pair used the Capa name as a pseudonym. The New York Times wrote in 2007 that she "survived in the public eye mostly for her romance with Mr. Capa."
On 24 July, 1937, Taro was taking pictures in the Spanish Civil War in Brunete, west of Madrid, and covering the conflict for the French communist newspaper Ce Soir, when a car she was in transporting wounded soldiers collided with a tank. She died in a hospital early the following day, leaving a trailblazing legacy behind.
"We all loved Gerda very much… Gerda was petite with the charm and beauty of a child," wrote Alexander Surek, an adjutant to a Republican general. "This little girl was brave and the Division admired her for that."
It's not the first time Google has paid tribute to famous works of captured film. Previous doodles have covered silent filmmaker James Wing Howe, montage maker Sergei Eisenstein and the color festival of Holi.