11 of the Coolest Instagrams from Holi, India's Colorful Festival
Google has also marked the occasion with a doodle on its homepage.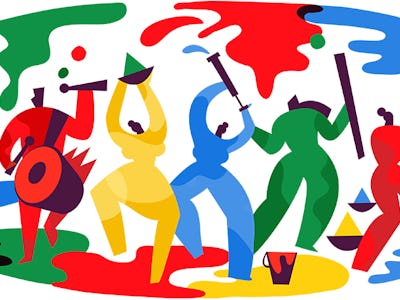 Google
Holi 2018 is here. The colorful festival was celebrated in a Google Doodle on Friday, and celebrators across Instagram and social media have marked the occasion with some of the most impressive colorful photography on display.
"It's time for Holi — the age-old festive ritual marking the end of winter, the coming of spring, and symbolically, the triumph of good over evil," the company said in its description. "Family and friends come together to feast, dance, and laugh together while dousing each other with colored powder and water."
Friday's Google Doodle comes from Amrita Marino, which shows dhol players (a double-headed drum) in a cloud of colors. The drummers are a key part of the festivities, traveling through communities and getting people into the party spirit. Each color symbolizes something different: red is love and fertility, green is spring and new beginnings, yellow is natural remedy turmeric, and blue represents Krishna.
An ancient Hindu festival, mentions of Holi have been found by archeologists that date back to 300 B.C.. Where originally it was celebrated across the Indian subcontinent, it's now also celebrated in parts of Europe and North America. In India, Lathmar Holi takes place in the days prior to the event, where the women of Barsana beat the men of Nandgaon with sticks. The festival itself starts with a Holika bonfire with singing and dancing — Holika being the name of the demoness who was conquered by devotion to Lord Vishnu — before color explodes out onto the streets.
Here are some of the coolest images people are sharing on Instagram of the colors in action:
It's not the first time Google has celebrated an occasion with a commemorative doodle. The company has previously paid tribute to dates as broad as the coming of winter, Martin Luther King Jr. Day, and the 131st anniversary of the hole punch.