Google Gets Festive With This Cute Bird-Theme Doodle Homepage Series
Google is getting into the holiday spirit.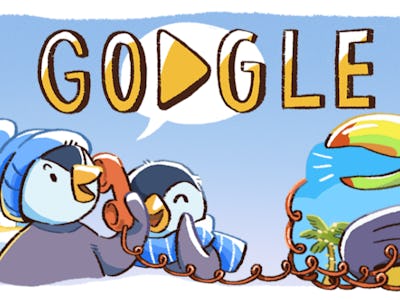 Google
Google is getting into the festive spirit, with a new series of doodles on its homepage aimed at telling a story over installments of a bird family visiting their relatives. The company's homepage drawings have acquired a near-legendary status over the years as Google uses them to showcase artist talent, commemorate important dates and celebrate major achievements.
In Google's description of the doodle, the company said:
The festive season is here and this pair of slippery-footed siblings are excited to spend time with their warm-weather relatives! Stay tuned over the next couple of weeks to see what kind of fun this feathery family has in store.
The first picture in the series shows a penguin family on the phone to their toucan relative, suggesting the southern hemisphere birds are planning a visit to the tropics.
In the next image, the excited pair are seen packing their suitcases, complete with essentials like cans of fish and prawn-flavored snacks:
It's an adorable tribute to a journey many humans will make over the holiday season, but for penguins it's not too far removed from what happens in nature. As the days grow shorter in their local climate, algae struggles to grow due to a lack of sunlight for photosynthesis. As the algae struggles, so too does the krill that eats algae as part of its diet. Penguins eat krill, so they move to places with longer days to find more krill to eat. Emperor penguins can travel as far as 600 miles just to find food. In Google's doodle, though, it seems the birds are packing their own food just in case.
The released images suggest Google plans three more doodles in the series: one on December 25, another on December 31, and a final one on January 1:
The series marks the end of a big year for Google's doodle team. Over the course of 2017, the company has marked a number of momentous occasions, like the 131st anniversary of the hole punch, or 50 years of teaching kids computer code. Google has also commemorated the lives of famous individuals like explorer Fridtjof Nansen, astrophysicist Subrahmanyan Chandrasekhar and horticulturist Gertrude Jekyll.