Why Google Doodle Celebrates Gertrude Jekyll's 'Near-Legendary' Gardens
The horticulturist was highly influential in her work.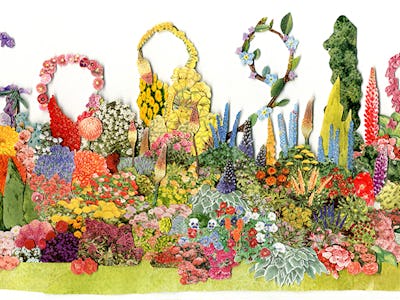 Google
Google paid tribute to famed horticulturist Gertrude Jekyll on Wednesday, with a doodle to commemorate 174 years since her birth in London in 1843. Over the course of her life, she designed gardens all over Europe and the United States. Her work has been recognized globally as a powerful influence on 20th century design.
"Jekyll occupies near-legendary cult status in horticultural circles, with both American and English gardening authorities acknowledging her as a premier influence in garden design," the Chicago Tribune said in 1989.
Jekyll designed 400 gardens across the world and wrote over 1,000 articles for periodicals. Originally working in painting and craftwork until the 1870s, she applied artistic ideas to her gardens. An example of this was her use of Michel-Eugène Chevreul's chromatic theories, where she used flowers to mimic the color wheel in a row, balanced out with smatterings of each color's complementary counterpart.
British artist Ben Giles created Wednesday's doodle with a collage that combined the hot and cold colors Jekyll liked to use throughout her life. Giles shared images of his work in progress:
Here, Giles' work gives an example of the color wheel in practice:
Her work also took inspiration from J. M. W. Turner, an English painter during the Romantic period that captured imaginative landscapes in his work. Jekyll was inspired by these images in her paintings.
Perhaps her most famous creation was the garden at Munstead Wood in Surrey, where she spent around 40 years of her life. Construction on the house began in 1895, designed by her friend Edwin Lutyens. The 15-acre garden was created with the assistance of a staggering 14 gardeners. Both the house and garden are "Grade I listed," a special designation given to English and Welsh buildings "of exceptional interest."
Jekyll also combined her love of crafts with that of gardening. The Munstead Flower Glasses were vases designed to be strong, cheap and hold a large amount of water. She commissioned 51 of them in the 1880s after finding no vases that quite matched her criteria. Jekyll believed that "it is not enough to cultivate plants well: they must also be used well."
Jekyll spent her remaining years at the Munstead Wood property. She passed away in 1932, at the age of 89.
For Google, the homepage doodle has become a way to celebrate culturally significant events through the world's largest search engine. Previous doodles celebrated the lives of author Chinua Achebe, explorer Fridtjof Nansen and astrophysicist Subrahmanyan Chandrasekhar. It's not just people, though: a doodle earlier this month celebrated 131 years of the hole punch.