Elon Musk Reveals a Big Upgrade to Tesla Model 3 Repairs Coming Soon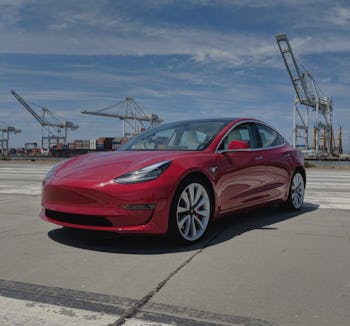 MKBHD/Instagram
Tesla Model 3 is the company's major mass market moment, but even Elon Musk can't stop crashes from happening. The CEO revealed on Wednesday that Tesla plans to boost body repairs to ensure consumers involved in accidents can return to the road faster. It's part of a major push throughout the business to make moving the Model 3 faster than ever.
Musk made the announcement in response to Twitter user Adam Whiting, who complained that he received his Model 3 in February and got hit on June 11, only to be told by the repair store that the parts won't be ready until September 6 despite the car sitting in the shop for 50 days. Whiting also claimed the service center at Chandler, Arizona, has been waiting for a quarter panel for over 100 days. Musk claimed that Tesla body shops are "ramping up fast" with plans to move from over 30 days using repair shops to same-day repairs at service centers. The company will reach this goal using pre-stocked parts.
See more: Elon Musk Debuts an Eco-Friendly Tesla Model 3 Fast-Delivery System
The news comes just days after Musk personally delivered a Model 3 to Devin Scott in Los Angeles, debuting a new fast delivery system aimed at getting more of the 5,000 per week Model 3s produced into the hands of the 400,000 or so $1,000 reservation holders. The new delivery system cuts the plastic packaging, and means cars will ship directly to consumers in a sealed vehicle from the factory instead of first stopping at a delivery hub.
Musk has also floated other ideas to keep the Model 3 project running smoothly, as the company works to mass produce the cheaper electric car alongside its regular weekly production of 2,000 Model S and X editions. Another idea suggested by Musk is "sign and drive" where buyers can drive away after signing paperwork in just five minutes as opposed to the hour-long appointment at delivery centers. Musk has also suggested Tesla could eliminate contracts using smartphones.
Tesla is set to report its latest quarterly earnings on Wednesday at 2:30 p.m. Pacific time. The company will provide details about the first 12 months of Model 3 production, and analysts are expected to grill Musk for further details about the project.
If last quarter's call is anything to go by, it could prove dramatic. Musk cut analysts short during the May call by deriding their questions as "boring" and "boneheaded."