Elon Musk Debuts an Eco-Friendly Tesla Model 3 Fast-Delivery System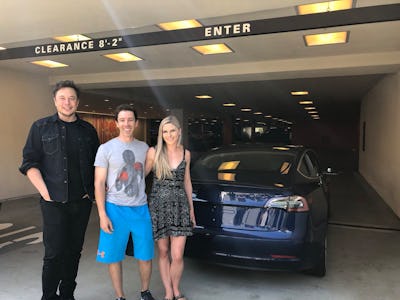 MichiganMan2007/Twitter
Tesla is cutting back on plastic with its new car delivery system. On Monday, CEO Elon Musk shared the story of how he personally delivered a Tesla Model 3 to Devin Scott in Los Angeles, using a new method where instead of arriving in plastic wrap, the car is delivered with an enclosed trailer directly from factory to home.
The new method is a marked change from the previous process, where several cars would ship out on a truck to a delivery hub and move out later. It means less packaging, and potentially fewer steps in getting some of the approximately 7,000 cars produced per week into the hands of buyers. Tesla produces around seven times more cars per week than it did when the Model 3 first started production a year ago, and this rapid expansion has led to big changes in the company's processes to fulfill the 400,000 or so $1,000 reservations for the Model 3. In a March 2017 earnings call, Musk said his goal was to make deliveries "more streamlined, less paperwork, less bureaucracy."
See also: Elon Musk Claims Tesla Didn't Just Hit Model 3 Goal, But Exceeded It
Tesla has been working to speed up its direct delivery in a number of ways. One method that surfaced earlier this month is "sign and drive": instead of delivery appointments that take up to an hour as the employee explains the car, these new appointments cover the basic paperwork and leave drivers with a series of videos so they can leave with their car in just five minutes.
Another idea suggested by Musk is the elimination of contracts. Last week, Musk posted on Twitter about how smartphones could enable "tap here & you get your car," removing the contract and allowing users to return the car "like any other product" if there's any issues. The idea came in response to one Twitter user who claimed his sister-in-law experienced an issue with signing contracts, causing in-store delays.
Musk is set to report on the company's second quarter earnings on Wednesday at 2:30 p.m. Pacific time, where he's expected to update investors on the company's expansion efforts and future projects like the Roadster and Semi Truck.
The Tesla Semi, set to hit roads in 2020, is expected to ship with a form of Autopilot. Uber unveiled a similar autonomous truck system in March. With autonomy coming to the trucking industry, Tesla could find other ways to streamline the delivery process further.