'Fortnite' Could Get a New Competitor, Thanks to EA
It may not even be a shooter.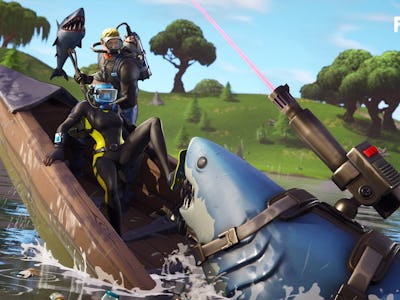 Epic Games
The history of battle royale games has been a short but intense war between established developers and scrappy indie studios looking to seize a lucrative new market. Epic Games' runaway hit Fortnite Battle Royale is currently the reigning champion, but Electronic Arts is already crafting an attack plan to take on the king.
Although EA announced a battle royale mode for the upcoming Battlefield V, it's not intended to be the main draw of the title. COO and CFO Blake Jorgensen described the battle royale mode as one of the several features in the game, during the EA Q1 2019 Earnings Conference Call. An investor asked whether EA was interested in offering Battlefield V's battle royale mode as a standalone product at a lower price such as PUBG (which sells for $30) or for free like Fortnite.
"We're focused on creating it as a mode in the game, no different than the other modes we have in the game," Jorgensen said in the call.
Fortnite itself actually began as a full retail title co-operative title with single-player and multiplayer with moderate success. But when Fortnite Battle Royale was introduced as a free, standalone title, it propelled Epic Games from being a prestige publisher to a household name.
While Jorgensen clarified that there are no plans to take Battlefield V down that route, he did entertain the idea of a new title with a greater chance of shaking up the battle royale landscape.
"I would say we're interested in possibly experimenting with a essentially free-to-play, standalone game that might be in a shooter genre or another genre," he said. "But I don't think that's how we're looking at the Battlefield stuff right now."
A battle royale game that isn't a shooter? That would really be unexplored territory. The genre has already been flooded with multiple titles that are applying some twists to the traditional mechanics established by PUBG. Realm Royale features character classes and Battlerite is a MOBA game in the vein of League of Legends that will soon receive its own battle royale mode.
As other developers have demonstrated, there is plenty of opportunity to release an innovative battle royale game. While Jorgensen wasn't clear on what a dedicated battle royale game from EA would look like, he did indicate that there are plans to make it happen.
"You'll see more to come about that in the coming months and years," he said.