5 Fascinating Facts About International Chess Champion Lyudmila Rudenko
The chess Grandmaster broke glass ceilings in Soviet Russia.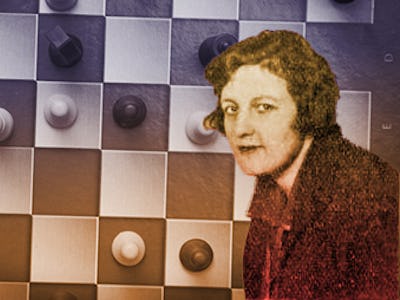 The scope and impact of Lyudmila Rudenko's chess legacy can be summed up by a few of her many titles: first female International Master, second women's world champion, and Woman Grandmaster. For a span of about 30 years, the player honored with July 27's Google Doodle broke glass ceilings in Soviet Russia while reigning supreme in the international chess community.
What Was Rudenko's Most Iconic Game?
The World Chess Hall of Fame in St. Louis, Missouri curates profiles for notable players throughout history, including Rudenko. It lists her 1950 spar with Mona May Karff in Moscow as her most important game. There's even an animation illustrating the moves Rudenko made before being crowned champion.
John Donaldson, a chess historian with the World Chess Hall of Fame, reviewed 55 matches Rudenko played between 1946 and 1963 to determine some of her most iconic games. According to Donaldson, she became a serious chess player in her twenties, which would be considered late today, in the age of computer class playing.
What Match Allowed Rudenko to Become a Professional?
Rudenko studied under another legendary chess player: Peter Romanovsky. Until the master coach's leadership, she won three of Leningrad's women championship titles.
Rudenko's father taught her to play chess at the tender age of 10 as a child living in modern-day Ukraine. She pursued a career in economic planning before moving to Moscow in 1925, three years after the Soviet Union took control of Russia. It was then that Rudenko won her first women's chess championship, which kicked off a career of record-shattering wins and milestones.
During the evacuation of Leningrad during World War II that Rudenko orchestrated as an Economics Planner, one of the children rescued due to her efforts was future World Champion Boris Spassky. He went on to play a famous chess match against Bobby Fischer, which allowed chess to enter the public eye in the US.
When Did Rudenko Become a World Champion?
Later, Rudenko's predecessor, Vera Merichik, the then-Women's World Champion title holder, died in an air raid in 1944. After the fighting in World War II ceased, the World Chess Federation held a new tournament, where 16 women from 12 countries competed. With nine wins, five draws, and one loss, Rudenko took her place as the world champion.
What Style Allowed Rudenko to Be Successful?
"I would characterize her as primarily a positional player, but one with a keen tactical eye who could attack when the position required it as seen in her game against the English player Rowena Bruce,"Donaldson tells Inverse in an email.
In that 1946 game, where Bruce represented England, Rudenko sacrificed one of her white pieces in order to render Bruce's black pieces defenseless. She utilized the same style of positional play with a tactical blow to finish off her opponent in matches with Maria Teresa Mora Iturralde in Moscow in 1950, Valentina Borisenko in 1954, and Olga Rubtsova in 1956.
In the next championship cycle, Rudenko lost her crown to Elisaveta Bykova, but her legacy had already been sealed. In 1976, she was finally awarded the title of Female Grandmaster.