Chess Master Lyudmila Rudenko's Greatest Accomplishment Had Nothing to Do With Chess
The Grandmaster was instrumental in a World War II humanitarian mission.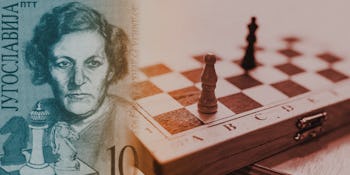 Lyudmila Rudenko is widely celebrated for her competitive chess career — it's the focus of her commemorative July 27 Google Doodle. But besides becoming a female Grandmaster and the second-ever women's world champion of chess, Rudenko was an economics planner by trade, and she lived in Soviet Russia during World War II.
Because of the incendiary environment, combined with her work in public services, Rudenko played an integral part in the rescue mission that saved countless children from warfare in Leningrad in 1942. The forced evacuation was considered by Rudenko herself as her greatest accomplishment.
What Happened During the Siege of Leningrad?
The Siege of Leningrad was also known as the 900-day siege, due to the prolonged presence of Nazi German and Finnish forces in Soviet Russia during a 5-month brigade of the city. Over 200,000 defenders from Leningrad's population were able to fortify the city's perimeter, but with vital rail and supply lines cut off, the German siege was eventually able to claim over half a million Soviet lives in 1942 alone.
Throughout the siege, over 2 million people lived in Leningrad. The city was supported by an industrial expanse of factories that employed many of its citizens. Rudenko, as an Economics Planner in Leningrad, orchestrated the removal of factory workers and their families from the city during World War II. Her role in organizing the evacuation led to thousands of saved lives.
How Did Rudenko Balance Chess and Economics?
Rudenko studied Economics at university while maintaining a swimming record in the breaststroke. And, of course, she played chess. Her father originally taught her how to play at age 10, while she grew up in modern-day Ukraine, but Rudenko's first competition took place in Moscow in 1945, when she moved to Russia's capital to pursue Economic Planning.
Best known for a series of matches that resulted in Russia beating the United Kingdom's national chess team, Rudenko being crowned Women's World Champion, and a string of wins under the guide of chess icon Peter Romanovsky, Rudenko continued her career in economics throughout the duration of her chess playing. She also married scientist Lev Goldstein in 1928 and had a son three years later.
Most professional athletes spend their time training, competing, and recuperating. Rudenko worked under some of the world's most iconic chess trainers, competed in tournaments for thirty years, and acquired numerous titles and awards, all while raising a family and maintaining a challenging career with humanitarian aspects. Oh, and she smashed a glass ceiling in competitive chess playing that inspired women for decades to come. It's safe to label Rudenko as a legendary chess player whose impact spanned fields from strategy to saving lives.