The 5 Best Stargazing Apps for iPhone and Android
These apps will help you get your stargaze on.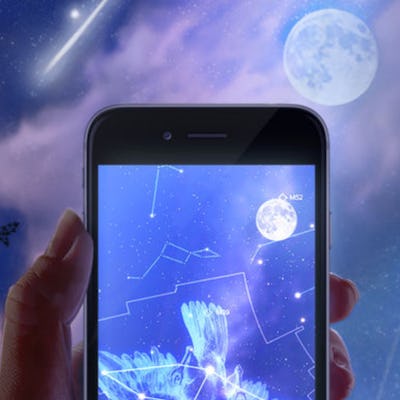 Mars will be brighter in the sky than usual on Friday, brighter than it has appeared in 15 years. To see the red planet, you'll want a stargazing app that can help you to view "Mars at opposition," the term of what occurs when Mars and the Sun are on directly opposite sides of Earth.
Friday, July 27 also marks a full moon and a total lunar eclipse. Stargazing is great year-round, but Friday is maybe the best night of 2018 to go outside and look up.
If you don't have a high-powered telescope, you can at least know where to look. With augmented reality technology and a smartphone — plus a few bucks for a premium app — you can get the most out of your stargazing experience.
Here are the five best stargazing apps for iPhone and Android.
Star Walk 2
$2.99, iOS & Android
"All you have to do is point your device to the sky!" declares the description of phone app Star Walk 2 is. The night sky tracker and can help you find constellations, according to its description. It's also $2.99 in the App Store for iOS devices.
Star Walk 2 shows a sky map on your screen in whatever direction you are pointing your device. So when you go out to check out Mars in the night sky, open it up, and play around with the app until you find the bright planet.
Star Chart
Free, iOS & Android
Star Chart is a great option if you're looking for a free app to use to check out Mars at opposition, or really if you're doing any sort of stargazing.
This is another app that lets you point your Android or iOS device at the sky, and Sky Chart will let you know what you're looking at. In a fun twist, Sky Chart will even let you point your phone down at the ground to see what people who are on the other side of the world can see in their sky.
iTunes / Google
Stellarium
$2.49 Android, $2.99 iOS
Stellarium boasts that it is "the most realistic sky map to observe stars, planets and constellations!" It also will show you an accurate night sky map, and lets you identify a star or other celestial body by pointing your phone at the sky while you're using the app.
The Android/Google Play store version of the app promises a catalog of over 600,000 stars in a real-time sky map. It's $2.49 for Android users, versus $2.99 for iOS.
iTunes / Google
SkySafari
Free, iOS & Android
The base versions of SkySafari seem to be free for both Android and iOS users, but the versions of the app are different. The Google Play store has a SkySafari 5, while the App store offers a SkySafari6.
Both seem to offer the ability to locate planets, constellations, satellites, and more using the app, no matter which device you're using. There's also more expensive versions of the app in both stores; SkySafari 6 Plus and SkySafari 6 Pro are available in the App store, for instance. So it all depends on what features you're looking for and what you're willing to pay for them.
iTunes / Google
SkyView
Free, or $1.99, iOS & Android
There are both free and inexpensive versions of SkyView available to both Android and iOS users. The description for SkyView Free in the Google Play store reads that it uses your camera to identify celestial objects, during the day or at night. It can even help you find the Hubble Space Telescope when you point your device at the sky.
The App store also offers a SkyView Lite, and both Android or iOS users can also access a $1.99 version of the app in either store if you want access to more features.
It should be a breeze to find Mars at opposition with any of these apps. It really all depends on which one you like best, and what you want to pay for them. Happy stargazing!
It's D🌝PE SPACE WEEK: July 23-29, 2018 will see a full moon (the "Full Buck Moon"); a total lunar eclipse that will see it turned a bloody color; Mars at opposition, wherein the red planet will be at its closest approach to Earth; and the Delta Aquarid meteor shower. Such a confluence of dope celestial events calls for the first semi-annual Inverse Dope Space Week! Be sure to join our private Dope Space Pics Facebook group to share in the stranger wonder of space all year long. And listen to I Need My Space, the Inverse weekly podcast about the weirdness of space.