YouTube Removes Alex Jones Videos: 4 Channels That Could be Next
YouTube is cracking down on alt-right channels. Which ones could come under fire next?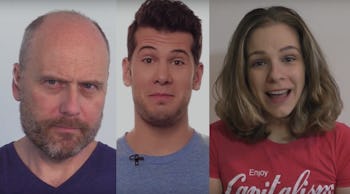 Alex Jones has a YouTube channel with 2.4 million subscribers, but this week, responding to public pressure from activists, the Google-owned service removed four videos from The Alex Jones Channel, home of his InfoWars programming, citing chid endangerment and hate speech.
InfoWars is a drop in an ocean of right-wing YouTube videos that live on the border of violating community policies and the act of speaking freely, leading watchers of YouTube's removal this week to wonder which borderline channel will come under scrutiny next.
As it's written, Google's hate speech policy is defined as content that "promotes violence against or has the primary purpose of inciting hatred against individuals or groups based on certain attributes." Those attributes are include race, religion, disability, gender, age, and sexual orientation/gender identity.
A quick examination of four prominent right-wing YouTube channels indicates that Stephen Crowder, Stefan Molyneux, Paul Joseph Watson, Julie Borowski, and PragerU could all have content removed and community restrictions placed on their accounts for violating YouTube's policy.
Who Are the Next Personalities YouTube Could Target?
• Stephen Crowder
On a Louder with Crowder segment, where Crowder and guests attempt to "debunk" gender theory, Crowder says transgender studies endanger children. The view that gender identity is dependent on sex invalidates transgender identities, and the further argument that gender science is "fake" and "not real" are inherently discriminatory toward nonbinary and transgender individuals.
• Stefan Molyneux
The Molyneux channel with over 800,000 subscribers also dabbles in gender "debunking," but a video called "Horror in South Africa. Prepare yourself." seems intent on inciting hate in a different category of speech, targeting South Africans. Molyneux argues that native Africans and other non-white third-world citizens want to "kill all white people," and therefore should be considered a lesser class of citizen that should not legally be allowed to live in majority white countries.
• Paul Joseph Watson
Watson brands himself as controversial and contrarian, and in a video about Sweden, he insists that Muslim men are inherently rapists thanks to their religion, which would appear to be a clear violation of YouTube's policies.
• Julie Borowski
Female alt-right personalities are generally less popular than their male counterparts on YouTube, likely because their gender is one of the categories discriminated against by conspiracy theorists and far-right pundits, but they are out there. Borowski is one of them, claiming around 100,000 subscribers. She perpetuates the narrative that transgender women and men should be discriminated against in sports because of their biological sex.
In the InfoWars case, a clip of a man pushing a child to the ground may be the reason a YouTube spokesperson cited the account for showing child endangerment.
Jones and the InfoWars staff have denounced YouTube's line of action toward their channel on the InfoWars website, including a statement that a "community strike" has been leveled at the account, meaning InfoWars cannot livestream content for 90 days. If the account receives two more strikes over the course of the next month, InfoWars will be terminated.