Pepe the Frog Creator Sues InfoWars for Using Cartoon on MAGA Poster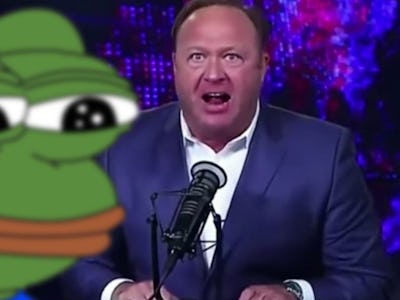 The creator of Pepe The Frog is suing InfoWars, the conspiracy theory website headed by Alex Jones, for selling merchandise featuring his amphibious character. In a lawsuit filed on Monday in Los Angeles, cartoonist Matt Furie alleges that InfoWars co-opted Pepe's likeness without his permission, illegally selling a poster that included Pepe the Frog.
The poster, which Jones told AP sells for $29.95, is a veritable who's who of conspiracy theorists, right-wing politicians, and media provocateurs with the acronym "MAGA" superimposed in the bottom corner. Unfortunately for Furie, Infowars' ideological appropriation of Pepe is not only financially improper, it's diametrically opposed to the original spirit of the character.
Pepe was invented by Furie in 2006 as part of the comic series, Boy's Club. "At his creation, Pepe was a 'peaceful frog-dude' — a kind and blissful cartoon character, who lived alongside three animal roommates, and became famous in part because of his catchphrase, 'Feels good man,'" the lawsuit says.
But in recent years, the amphibious stoner has become heavily politicized and associated with the far right, largely due to its use by alt-right-leaning trolls online. After then-candidate Donald Trump retweeted a picture of himself imagined as Pepe, the cartoon-turned-meme was officially branded as a symbol of white nationalism by many news outlets. At the time, many protested Pepe's label as a hate symbol, claiming it was all just harmless trolling. But with the sale of Pepe the Frog merchandise on Infowars, those reports appear pretty vindicated.
It's been a long battle on Furie's part to rebrand Pepe as a symbol of harmless hedonism. Last June, Furie launched a Kickstarter to fund a new zine in which to reclaim Pepe's peaceful and sedentary identity — he raised nearly $35,000. And in October, Furie sued a woman for allegedly selling politically charged oil paintings with Pepe's image; that suit has yet to be decided.
Read the full lawsuit below.