HPV Vaccination Regime Targeting Boys Will Make Virus 'A Thing of the Past'
In the UK, HPV vaccination is no longer just for girls.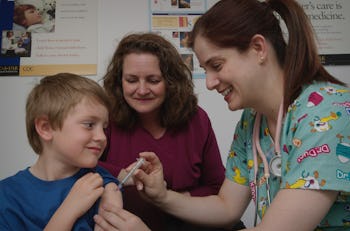 Public Domain Files/CDC
In the United States, human papillomavirus (HPV) infections cause 32,500 new cancer cases each year. CDC data indicates that HPV vaccinations can prevent the vast majority of these cancers from ever happening, but unfortunately the majority of American male adolescents don't complete the three-dose HPV series, despite the fact that HPV affects nearly half of American men. Carrying the virus is a serious issue, even if infection doesn't always result in illness. Across the pond, the UK government has realized the gravity of the problem and announced Tuesday it would provide free HPV vaccinations to all boys.
The announcement states that all boys between 12 and 13 in England will be given a vaccine to protect them against HPV-related cancers. This action is an extension of an HPV vaccination program already in place, which has provided vaccinations to girls since 2008: Today, almost all English women under 25 have received the vaccine. Thousands of boys are now expected to receive the vaccination annually.
"This extended programme offers us the opportunity to make HPV-related diseases a thing of the past and build on the success of the girls' program, which has already reduced the prevalence of HPV 16 and 18, the main cancer-causing types, by over 80 percent," said Dr. Mary Ramsay, the Head of Immunizations at Public Health England. "We can now be even more confident that we will reduce cervical and other cancers in both men and women in the future."
Giving boys the vaccine will not only protect them from diseases like oral, throat, and anal cancer but will also reduce the overall number of cervical cancers in women via herd immunity. While many men who contract HPV don't develop and the infection can go away, they can still pass on HPV to their sexual partners. According to the CDC, nearly all sexually active people who do not get the HPV vaccine get infected with HPV at some point in their lives.
The decision in England came at the heels of a July report published by the Joint Committee on Vaccination and Immunization, a group of experts that advise the UK government on matters relation to vaccinations. In 2008, the Committee had considered whether the HPV vaccination program should be extended to girls but decided "that vaccination of boys would generate little additional benefit to the prevention of cervical cancer, which was the main aim of the program." While they knew giving boys vaccinations would "clearly be an improvement to the health of the UK population," they also questioned whether it would be a cost-efficient use of National Health Service resources — remember, these vaccines are free.
More recent studies, however, strengthened the association of HPV with non-cervical cancers, leading to a change in policy. Some studies showed that in males, HPV infection can progress to cause anogenital warts as well as anal, penile, oropharyngeal, and oral cavity cancers. Rates of these male head and neck cancers are now on the rise around the world; their prevalence is now three to four times greater than it was 20 years ago.
This body of evidence changed the Committee's mind, and its endorsement led the UK government to adopt that strategy today. The decision is a future-focused one: While the vaccine is given to tween boys, the cancers that doctors are hoping to prevent usually aren't diagnosed until men and women are at least in their mid-twenties. The Committee's report notes that in the UK, 50 percent of new HPV cases in women are diagnosed after they are 40.
There is little precedent for this decision in public health. Today, just 16 countries, including Australia and Canada, provide HPV vaccines as a provided part of their healthcare system. While the US government recommends HPV vaccines for boys and girls, most families still have to pay out of pocket for both.