Asian-Americans Blast Deadpool Director Remaking 'Enter the Dragon'
Bruce Lee's 1973 classic is about to get remade, but many aren't happy.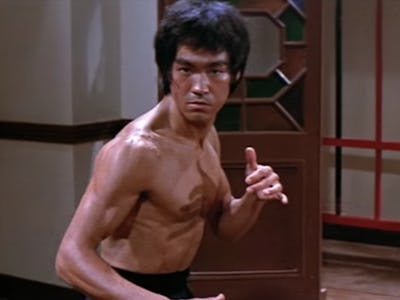 YouTube.com/Movieclips
Enter the Dragon burst into theaters 45 years ago to critical and commercial acclaim after the death of its star, the legendary Bruce Lee. It's a very important movie, not just for the action film genre but for how culturally significant Lee was, and how he still endures as one of the most prominent Asian-American pop culture icons.
But, on Monday, news broke that Deadpool 2, Atomic Blonde, and John Wick director David Leitch is in talks to direct the remake of Enter the Dragon with studio Warner Bros., which produced the original film decades ago. And, Bruce Lee fans everywhere — including many Asian-American audiences — are not having it, expressing disinterest on social media.
Deadline reported that Leitch is "in early talks" to direct a remake of Enter the Dragon, the first and only Hollywood film starring Bruce Lee and one of the most influential action movies of all time. The movie, which also features Jackie Chan in one of his earliest roles as an extra, follows Lee, a Shaolin kung fu master recruited by British intelligence to infiltrate a secret martial arts tournament held by an international criminal kingpin.
Enter the Dragon was released after Lee's untimely death in 1973, and became a major hit chiefly as a vehicle for its late star. In 2004, Enter the Dragon was added to the U.S. National Film Registry by the Library of Congress.
At the time of its release, there had been decades of emasculated images of Asian men and hyper-sexualized Asian women in Hollywood movies. Then came Enter the Dragon, showing off the unbelievably fit Bruce Lee who could dropkick dudes with equal parts power and pizazz. He was joined by Hong Kong singer Betty Chung, who played the supporting role of Mei Lin, a field operative who infiltrates the island as one of Han's "island girls." Mei was a small but important step in '70s-era Hollywood as a capable woman of color in a genre where women are so often arm candies to be rescued.
While Enter the Dragon was directed by white filmmaker Robert Clouse, which was far more commonplace in the 1970s, the film was very much a Bruce Lee project. Its story was heavily imbued with Lee's own unique martial arts philosophies. (Also, Clouse directed 1985 Gymkata, which is a good or great thing depending on who you ask.)
In many ways, Lee is Enter the Dragon, so fans are understandably bristling at the idea of remaking it, let alone remaking it with a non-Asian-American director at the helm, regardless of Leitch's action chops. The cultural significance is just too important, which is why several prominent Asian-Americans on Twitter sounded off after the news broke.
Daniel Wu, the star of Tomb Raider and AMC's Into the Badlands, also sounded off against the remake, because the original was all "about Bruce Lee's incredible charisma which cannot be replicated."
The Twitter account for YOMYOMF ("You Offend Me, You Offend My Family"), a cultural hub run by Fast & Furious and Star Trek: Beyond director Justin Lin and named after a line spoken by Bruce Lee in Enter the Dragon, also revealed that Lin passed on the project years ago.
Instead of remaking Enter the Dragon, they said, Lin chose to do Cinemax's Warrior, a series co-produced with Shannon Lee (daughter of Bruce Lee) that is adapting Bruce Lee's unmade pitch for a kung fu television series.
In theory, no film or story should be immune to retelling. And the potentially commercial appeal of an Enter the Dragon remake overseas may be what's driving Warner Bros. to pursue the project. To a studio, it only makes sense to give it to a proven action director with nothing but hits in their resume; Leitch's most recent film, Deadpool 2, grossed over $733 million worldwide.
But as Ghost in the Shell and Marvel's Iron Fist proves, listening to marginalized voices can go a long way to making sure a film/TV show doesn't end up with a dreaded "rotten" Tomatometer.