'Unfriended: Dark Web' Responds to Jake Paul Cameo Rumors With a New Trailer
Watch the YouTube star makes his horror debut.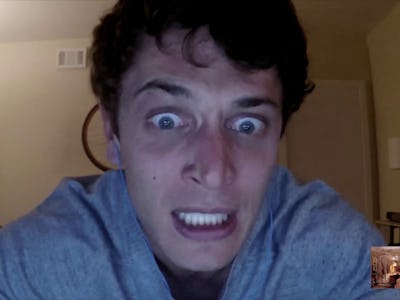 BlumHouse
Jake Paul isn't in Unfriended: Dark Web, but, for some reason, Google thinks he is. Do an online search for the new BlumHouse movie and you'll see a list of actors in the film — with the controversial YouTube star at the front of the list.
It's unclear why Google made this mistake (is it a bug? or a prank by some random software engineer?), but it's clearly a big enough deal to merit a response. A tweet from the official Unfriended Twitter account references the bizarre goof and shared a fan-made trailer that splices Paul into Dark Web.
"Don't believe @Google," the studio tweeted. "This is the only way @jakepaul will ever make it in our movie. Dark Web, he's all yours. #BewareDarkWeb."
The parody trailer is basically a copy of the real one. The only difference is that instead of uncovering disturbing torture videos on a stolen laptop, the cast instead finds links to a Jake Paul music video and some of his merchandise.
In a phone interview with the cast last week, Inverse also attempted to confirm whether Jake Paul appears in Unfriended: Dark Web. At the time, the cast was confused. Most of them didn't even know who Paul was, and definitely had no memory of him appearing in the film.
Now that Unfriended: Dark Web has officially responded we can finally put the issue to rest. Jake Paul definitely isn't in the movie, but maybe if we're lucky he'll show up in Unfriended 3.
Unfriended: Dark Web is in theaters now.