Does 'Unfriended: Dark Web' Have 2 Endings? The Cast Told Us What They Know (Update: It Does)
The movie's cast helps 'Inverse' clear up those rumors — sort of.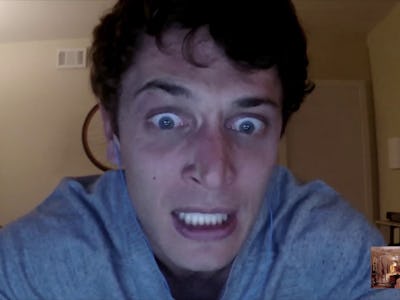 BlumHouse
You may have to see Unfriended: Dark Web twice to get the full experience. Not because of some mind-bending twist, but because the horror sequel allegedly has two distinct endings. After the news broke this weekend, Inverse spoke to the cast in an attempt to clear up the alternate ending rumors. Instead, we only ended up even more confused.
Update: A report from The Ringer confirms that Unfriended: Dark Web does indeed have two endings and describes them in full detail. Inverse's original article continues below).
First, a bit of background (don't worry Unfriended fans, this is a spoiler-free article). Rumors that Dark Web actually features two distinct endings first began circulating last Friday, July 13 (yes, that's Friday the 13th, which is also little suspicious) after a projectionist allegedly leaked a list of instructions for the new film which clearly states: "PLEASE NOTE THIS FEATURE HAS TWO DIFFERENT ENDINGS."
There's no mention of how the two endings differ or how projectionists should decide which version to show at each screening. So assuming this rumor is true, it's possible you could see Unfriended: Dark Web multiple times in theaters and never see both endings. IndieWire picked up the story over the weekend and it spread like wildfire, but BlumHouse (the horror-focused studio behind the film) hasn't issued an official explanation so far
Inverse also reached out to a PR contact for the film but they declined to comment. However, the cast of Unfriended: Dark Web was surprisingly blunt when asked the same question.
"As far as we know there's only one ending," Colin Woodell (who plays Matias in the film) tells Inverse. He went on to describe the final scene, which matched up perfectly with what we saw in an early screening of the film.
Woodell also explained that it's possible BlumHouse could have pulled off a second, alternative ending without any of the cast ever realizing.
"This is the weirdest thing about this film," Woodell says. "We filmed so much stuff and did so many reshoots. So many cooks in the kitchen weighing in. A lot of the stuff we filmed, I'd hear from Stephen [Susco, the director,] one month we're keeping this in and another month saying not anymore. So things have constantly been changing and I think they've been changing even a few weeks ago."
So… maybe there is a second secret ending? Maybe the cast isn't telling me everything they know? Or maybe the entire thing is just a big publicity stunt? We'll just have to wait and find out.
Unfriended: Dark Web opens on July 20.