Why Apple's Next iPhone Could Slow Down Third-Party Chargers
The company may need to change its approach.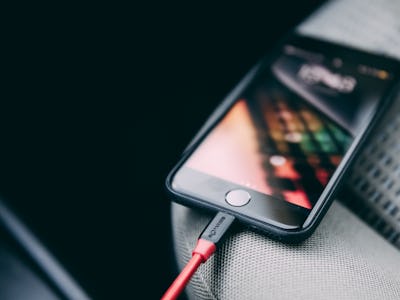 Unsplash / Bence ▲ Boros
Bad news for some charger owners: Apple's next iPhone could limit the recharge speed from non-approved third-party plugs. A report on Sunday claims the company's plan to use USB-C with its next charging solution could lead to a situation where some phones charge with just half the power of regular plugs.
The report from Mac Otakara claims that Apple may require USB-C Authentication, or C-AUTH, for its new chargers. Previous reports claim Apple may offer a power plug that offers 18 watts, far more powerful than the currently-bundled 5-watt block that would cut recharge times to an hour for 80 percent charge. As part of this change, Apple may also switch the standard USB plug for the reversible USB-C standard, capable of delivering up to 100 watts of power and used by the company's newest MacBook line for simpler charging. Requiring C-AUTH would protect against unverified third-party chargers, but it would also mean unapproved plugs limited to just 2.5 watts and prompting an error message on the phone.
The authentication standard is designed to add an extra layer of security, using 128-bit encryption to check the device, but the specification can be used to check a charger plugged into a phone. It's a serious issue for the nascent USB-C standard, as Google engineer Benson Leung fried his Chromebook Pixel through testing an Amazon-bought Surjtech 3M USB A-to-C cable. Even if the charger doesn't fry the device, non-compliant devices may not even charge with the connected adaptor.
Although the change could make sourcing a charger from Amazon more difficult, it could spur a positive move in the wider industry. MacRumors notes that Apple is one of the over 1,000 companies registered as members of the USB Implementers Forum, meaning the company has a wide range of third parties supportive of these standards.
Apple is expected to launch its next range of iPhones in the fall, as it has done almost every year since the first device launched. The phones are expected to ship with iOS 12, the software update unveiled at the Worldwide Developers Conference in June.