'Fortnite' 1st Birthday Celebration Rewards Are Wicked Sweet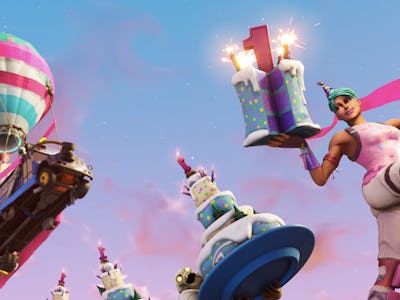 Epic Games
Bring on the funfetti birthday cake back bling, because Fortnite is about to turn 1. And she's a hungry baby with a wicked sweet tooth.
On Friday morning, Epic Games announced that the company would celebrate Fortnite's 1st birthday on July 24 with some festive in-game challenges and appropriately sweet rewards, literally. Pretty much every cosmetic item available as a reward for completing these unique Challenges is cake-themed in some fashion.
Two of the three Challenges are super-generic, requiring players to simply play matches and deal damage to opponents. Dealing 1,000 isn't anything special, but playing 14 matches seems like a lot. Despite these Challenges being available for a "limited time," we're assuming and hoping that it won't just be for the single day.
The third Challenge is "Dance in front of different Birthday Cakes," which will probably function the same as the "dance in front of different cameras" from Season 4, Week 2. Players will have to dance in front of 10 different cakes. There will probably be way more than 10 on the map, but who knows where they'll be located.
Here's the official listing from Epic Games, which includes the rewards:
Playing the matches will get players a measly 5,000 experience which seems like a shortchange. Dealing the 1,000 damage unlocks the Fortnite Birthday! Emoticon that's a large cupcake with a huge "1" candle on top of it. All that dancing gets a Happy Birthday! Spray featuring cake and balloons.
The most coveted birthday prize, however, comes from completing all these Challenges, because the reward is a Birthday Cake back bling that's a birthday cake with a slice missing and lit candles on top. Not only is this wicked sweet, but it's also lit.
Promotionally images for the event also make it seem like the Battle Bus might get decked out in all sorts of festive streamers and balloons.
These Challenges will probably roll out at the usual 4 a.m. Eastern time on July 24, and they'll likely last several days.
Follow Inverse on Twitch to watch Squad Up: The Fortnite Talk Show.