We Took a High Tech Siesta at the Casper Dreamery
Can Casper make mid-day napping a thing in the US?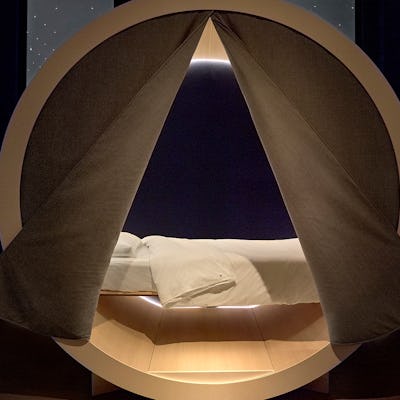 Casper
I wasn't sleepy, in fact, I was two coffees deep and the clock had just struck noon. Yet I was on my way to take a $25 nap at the newly opened Casper Dreamery, a bet that the New York-based mattress startup can warm busy Americans to mid-day snoozing with its futuristic pay-by-the-nap concept.
Much like how the ice cream shop Cold Stone calls itself a "creamery," the mattress company has taken it upon itself to open a "dreamery." No, they don't sell dreams or dessert, they sell 45-minute naps in spherical sleep pods that Casper has dubbed "nooks."
"We aren't really geared towards a specific demographic, we just want to bring napping culture to the [United States]," a Casper spokesperson tells Inverse. "We've had students come in between their classes or older people before dinner."
Encouraging better sleep is a worthy cause, especially in the city (and country) that's perpetually burning the candle at both ends. About one third of Americans aren't getting the recommended minimum of seven hours of sleep per night, according the CDC. The National Sleep Foundation has also found that 20 to 30 minute cat naps are enough to increase alertness without interfering with your sleep schedule. But will people really warm to the idea of glorified snooze spas? We decided to try it out.
What it's Like in the Casper Dreamery
Stepping into this strange community of communal midday nappers was surreal — I might even say dreamlike.
A dimly lit, navy blue corridor led to the brick-and-mortar nap bar's check-in desk and lounging room. This welcome area was reminiscent of any startup office you've ever set foot in. Minimalist seats, dynamic lamps, and La Croix were all present.
New to the experience, I unfortunately announced myself in what many would consider an "outdoor voice" and I was immediately met with the far gentler tone of the receptionist. He made sure I had a reservation, handed me a goodie bag full facial products, and proceeded to ask me if I wanted to change into a fresh pair of pajamas. I readily agreed.
I was then escorted to a dimly lit changing room with a sink and mirrors emblazoned with encouraging slogans like "You miss 100% of the naps you don't take." The dressing room offered a handful of amenities like eye masks, toothbrushes, earplugs, and "bed head taming devices," or as us non sleep-professionals have been known to call them — combs. By the time I had slipped on my PJs and strapped my eye mask to my forehead, the ASMR qualities of the receptionist's voice and the writing on the wall coaxing me to go to sleep began to take hold. It was bedtime.
Another Dreamery employee that presides over the actual nap room guided me to my assigned nook. Each sleep pod is sealed off by a set of blackout curtains, but the interiors are relatively minimalist: A twin mattress with crisp-white sheets, an outlet, and a light switch. For the truly hyperconnected, there was also a slip of paper wishing you sweet dreams that included the wifi password, just in case you want to browse instead of nap.
The pod was a little chilly, but the comforter helped. Once I shut off the light I was engulfed in darkness and began to ponder being charged 55 cents a minute to nap. Is this what our society has come to, luxury experiences to accommodate this most basic of human necessities? By the time I'd started to sort it all out, the soft whooshing of the air-conditioning had lulled me into a gentle doze.
Within 45 minutes or so, the footsteps of other nappers stirred me a few times until the lights in my nook slowly turned on by themselves. Nap time was over.
Changing out of my loaner PJs and stepping back in to the sunlight I have to admit I did feel a tad more relaxed and energized. I could see this eliminating my need for at least one cup of coffee a day. And picturing the faces I'd get if I tried to conk out on our office couch, I appreciate the discretion of my personal pod. I remain skeptical that mid-day naps will become a thing in our over-worked, hyper-connected culture, but I definitely wouldn't mind being proved wrong.