Why Is Dogecoin Rising? Cryptocurrency Parody Soars After Robinhood Support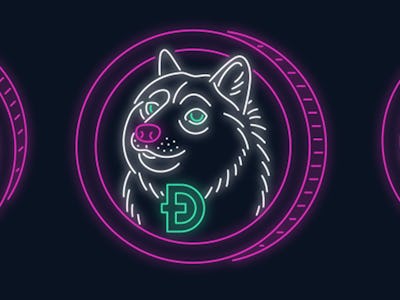 Robinhood
Dogecoin, the cryptocurrency that touts a five-year-old meme of a Shiba Inu dog as its logo, is soaring. The coin jumped six percent in value over a 24-hour period on Thursday, after the Robinhood exchange announced commission-free investment and the wider market experiences a turnaround in fortunes.
Cryptocurrency tracking site CoinMarketCap lists the value of one coin at $0.003561, with a market cap of $410 million and a 24-hour trading volume of $38.6 million, ranking as the 37th-largest cryptocurrency ahead of projects like Verge and Bytom. The surge follows Monday's announcement that financial services firm Robinhood, valued at around $5.6 billion, would add the coin to its cryptocurrency trading platform just one week after adding Bitcoin Cash and Litecoin, alongside previously-supported Bitcoin and Ethereum. Robinhood is only available in 17 U.S. states, but the announcement was enough to cause a spike in interest.
Dogecoin was invented five years ago by Australian entrepreneur Jackson Palmer. While it started as a joke, the high interest persuaded him to put the attention to good use by encouraging charity donations. In 24 hours, the coin's subreddit had raised $30,000 to send the Jamaican bobsled team to the Olympics, while also donating to other causes like training guide dogs. Palmer has been strongly critical of the coin's surprise surge in value, describing 2017 as "the year that cryptocurrency stopped being about technologically innovative peer-to-peer cash and instead essentially became a new, unregulated penny stock market."
Robinhood, which supports orders no smaller than 10 coins for Dogecoin, provides some hints as to why it's started supporting Dogecoin. The company describes it as a coin that's "known for its playful take on the cryptocurrency phenomenon," used for donating to charities and also "in online communities to 'tip' users for content that's particularly witty or useful."
With the cryptocurrency market's total valuation resting at $290 billion, a slight boost from its one-month low of $234 billion on June 29, Dogecoin's biggest days may be still to come.
It's not the only novelty cryptocurrency that's soared in value lately. Potcoin jumped in value last month as Dennis Rodman touted a t-shirt with the logo in Singapore, during the peace summit between president Donald Trump and North Korean leader Kim Jong-Un.