How the Parody Cryptocurrency Dogecoin Hit $2 Billion Market Value
It's now valued at more than $2 billion.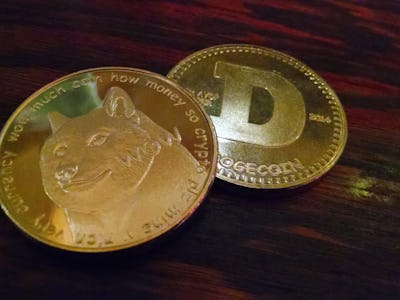 Flickr / Aranami
Wow. Such blockchain, much cryptocurrency.
Dogecoin, a cryptocurrency that was created in 2013 as a parody of blockchain technology, saw its market cap surpass $2 billion over the weekend — all without anyone doing anything to improve the original tech in about two years.
Though it began existence as a tribute to the popular "doge" meme and mockery of the then relatively struggling bitcoin, dogecoin has now been swept up in the "alt coin" wave that began in the wake of bitcoin's own recent surge in value.
The latest price data currently shows that dogecoin, which hasn't released a software update in two years, has a current market value of about $1.98 billion and is being traded at $0.017535 per coin. For those keeping track, that means about 114 billion dogecoins have been mined, which is a truly remarkable tribute to misplaced human ingenuity
All this means dogecoin saw a whopping 69 percent increase compared with just last Friday, with the coin peaking above the $2 billion mark in total market capitalization.
Despite its rapid rise, the parody coin's founder says these numbers are worrying. Dogecoin founder Jackson Palmer, who left the company in 2015, told CoinDesk: "The fact that most conversations happening in the media and between peers focus on the investment potential is worrying, as it draws attention away from the underlying technology and goals this movement was based [on]."
Even current developers working on dogecoin, like Patrick Lodder, are equal parts shocked and excited by its rise, considering nobody had to actually do anything for it to surge.
"To me, this proves that we don't need shiny features or a ton of innovation and even with a conservative – and in my own case completely distracted – development team for a boom," Lodder told CoinDesk.
Palmer and his team created the cryptocurrency all the way back in 2013, naming it after the meme depicting a Japanese shiba inu dog. Before it became the hottest (and most fun) cryptocurrency, dogecoin was branded as "the internet currency" for easy peer-to-peer payments.
If you're still trying to get in on some dogecoins, there are several ways to purchase some. Either by mining coins online, or by buying tokens at one of many exchanges. There is even a Reddit tutorial out there aimed to help folks buy dogecoin.
It's unclear how the meme-friendly cryptocurrency will fare in the blockchain technology craze. One thing is for sure: dogecoin is definitely the cutest of the 43 cryptocurrencies that currently have a market cap above $1 billion.