Potcoin Price Surges as Dennis Rodman Praises Weed Crypto at Trump-Kim Meet
The coin was one of the unlikely beneficiaries of the trip.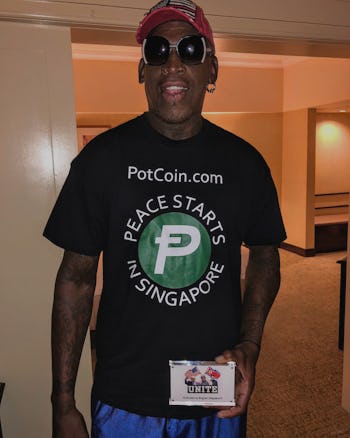 Dennis Rodman/Facebook
A marijuana-focused cryptocurrency called Potcoin soared in value on Tuesday after former NBA star Dennis Rodman was spotted in Singapore touting the token on his t-shirt, while his two friends president Donald Trump and North Korean leader Kim Jong-Un thrashed out a joint agreement.
Potcoin, which brands itself as a cryptocurrency for the legal marijuana industry, promises fast transactions, low fees, and a blockchain built on the proof-of-stake model — but it's unclear that the coin offers significant advantages over larger, more general use coins. Rodman's trip to Singapore was sponsored by the project.
Cryptocurrency price tracker CoinMarketCap listed Potcoin on Tuesday at a price of 10 cents per coin, an 18.16 percent rise over the past 24 hours, reaching a market cap of $21.2 million and a 24-hour trading volume of $950,000. In the wider crypto market, these are still pretty tiny figures — the site ranks it as the 315th-largest cryptocurrency as of Tuesday morning — but the gains in the wake of Rodman's highly-publicized trip are undeniable.
Rodman became an unlikely self-appointed diplomat in relations between the United States and North Korea, thanks to his close personal ties to both countries' leaders. Rodman is believed to have been the first American to meet the North Korean leader, reportedly telling Kim during a Pyongyang basketball game in 2013 that he had "a friend for life." Rodman's self-described philosophy of "basketball diplomacy" received criticism from the sister of prisoner Kenneth Bae as "games…at my brother's expense."
The star also has a connection to Trump, appearing in the second and sixth season of Celebrity Apprentice in 2009 and 2013 (he was fired in the sixth episode of the latter season for misspelling host Trump's wife's name wrong. Rodman described Trump prior to the summit as "one of the best negotiators of all time" and "a friend."
Potcoin also sponsored Rodman's June 2017 trip to North Korea. During the visit, Potcoin surged from nine to 16 cents. During the trip, Rodman gave minister Kim Il-Guk a copy of Trump's Art of the Deal.
Trump and Kim agreed to a number of steps to further peace on the Korean peninsula, including "complete denuclearization." The Guardian described the text as "some way short of the dramatic billing the president gave it." Potcoin nonetheless still hailed it as an important moment in world peace by sharing an image of the two leaders, with Rodman photoshopped in the middle and the cryptocurrency logo placed at the top:
The image was met with incredulity from Twitter users.
"Can you imagine waking up from a two-year coma and seeing this?" wrote a user under the name "America2_0."