'Aquaman' Made His Dumb Seahorse Badass — No, Seriously.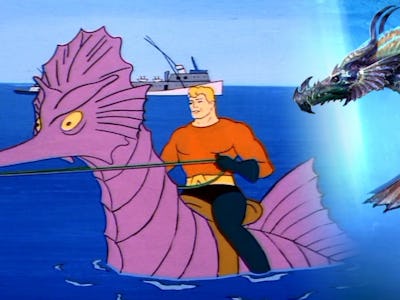 Warner Bros. Pictures
Step aside, Daenerys. Your ice dragons ain't got nothing on Aquaman's dragons of the ocean.
In a new reveal from Entertainment Weekly ahead of San Diego Comic-Con, Warner Bros. unveiled concept art for James Wan's DC superhero movie Aquaman. The art depicts a "sea dragon" that Jason Momoa will probably, definitely ride in the film, and it's a badass reboot of the lame seahorses Aquaman used to ride back in the Super Friends cartoon.
"The idea was to turn on its head the idea of Aquaman riding a seahorse, take something for which he was mocked and turn it into something terrifying and impressive," Safran said.
The sea dragons, as producer Peter Safran explains to EW, are ridden by the people of Xebel, one of the seven Atlantean kingdoms. (Mera, the wife of Aquaman and played by Amber Heard, is one of Xebel's royal warriors.)
With Marvel, Game of Thrones, and even Star Wars sitting out of SDCC this year, it could be Warner Bros. and its DC properties that generate all the buzz.
Aquaman is slated for release later this year, on December 21, and Shazam! with Zachary Levi scheduled for April 2019. There could even be more announcements that flesh out details regarding films like Batgirl, Birds of Prey, and the 800 Joker movies currently in the pipe.
See the concept art below, from Entertainment Weekly.
Aquaman will swim into theaters on December 21.