'Fortnite' for Android Could be Coming Sooner Than You Think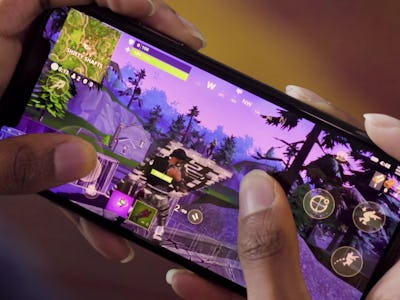 YouTube
Fortnite is set to release on Android sometime this summer, bringing Epic Games' monster hit to yet another platform. The only catch? We still don't know exactly when it will happen, but a new leak suggests that the Fortnite Android release date could be coming very soon.
The latest news comes from YouTube channel Tracker Network (via Forbes), which recently posted a video digging into the code from Fortnite's latest update. Hidden among all the new Season 5 changes are three lines of code that make direct reference to an Android launch. Specifically, they reference "Android_Engine," "Android_Game," and "Android_RuntimeOptions."
At the same time, Epic also seems to beefing up its server infrastructure ahead of what could be its biggest release yet. The company recently announced that it's going all in on Amazon Web Services to both enhance its current games and build new ones. Considering that Android boasts over 2 billion users, it makes sense that Epic would want to improve its infrastructure before even announcing a Fortnite Android release date.
Combined with the latest leak, this seems like a pretty strong indication that Epic Games is getting ready for an Android release. Then again, until we have official confirmation, this is just another rumor, so treat it with a grain of salt.
After all, the summer doesn't officially end until September 22, leaving the developer plenty of time to pull off a Fortnite release date. And that's assuming the company will hit its own self-imposed deadline at all.
Follow Inverse on Twitch for more episodes of Squad Up: The Fortnite Talk Show.