'Arrow' Star's Kick to the Nuts Is Just a Small Tradition in Comic Books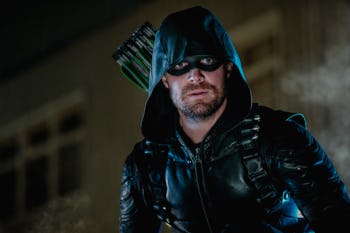 The CW
While shooting the 139th episode of Arrow, the bow-wielding vigilante Green Arrow got kicked in the nuts. It was bound to happen eventually.
On Tuesday, days before the cast and crew of Arrow (and The Flash, and Supergirl, and Legends of Tomorrow, and Black Lightning, and…) descend upon the annual nerd mecca San Diego Comic-Con, Arrow star Stephen Amell tweeted that he finally got kicked in the nuts during shooting of Season 7, slated to premiere later this year in October.
"140 episodes, countless stunt sequences… and I managed to avoid getting kicked in the nuts…," Amell tweeted, "UNTIL TODAY!!!"
Ouch, my guy.
While it was totally an accident and wasn't intentional (presumably), there's a small history of ball-busting in comic books. While Oliver Queen has never been seen getting a low blow, at least that we know of, other heroes and villains in both the Marvel and DC universes haven't been as lucky.
For example, in Teen Titans #47 by Adam Beechen, the then-recently resurrected Jason Todd — now operating as the Red Hood — got into a scuffle with Bat-Family members Timothy Drake (Robin) and Dick Grayson (Nightwing). During a fight, Jason gets a cheap shot at Dick's dick.
That same year, in Supergirl #15 by Joe Kelly, the Girl of Steel begins a brief romantic fling with Powerboy, until she finds out the he is kind of a creepy stalker. At the end of the issue, Supergirl gives Powerboy what's good by kneeing him right in the crotch. In space.
Finally, in Deadpool #15, the Merc with the Mouth gets kicked in his regenerative nuts by the King of Wakanda, Black Panther. It was in the middle of the second Marvel Civil War, so things were particularly tense in the Marvel Universe at that point. Still, T'Challa threw in an actual Game of Thrones reference while doing it.
Good to know that even a Wakandan royal is into binge-watching HBO.
Stephen Amell, meanwhile, is on his way to Comic-Con, presumably with an ice pack between his legs. In another tweet, Amell teases "a treat" for the Comic-Con audience. I'll let you write in your own joke there.
Arrow returns to The CW on October 15.