The Arrowverse Is Adding a Batwoman Show, No Sign of Batman Yet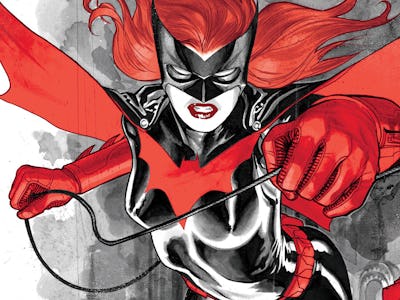 DC Comics
Fans of the CW's Arrowverse already knew that Batwoman would be joining the DC TV heroes in this year's upcoming crossover. But apparently the red-haired Gotham City vigilante is also getting her own TV show from producers Greg Berlanti and Caroline Dries (The Vampire Diaries).
On Tuesday, The Hollywood Reporter reported that The CW is looking into having powerhouse producer Berlanti to create a Batwoman TV series, in which Kate Kane suits up as the titular vigilante (not to be confused with Batgirl, an identity assumed by Barbara Gordon).
Among her notable attributes such as her expert fighting skills and detective reasoning, Batwoman/Kate Kane is a lesbian, making her one of mainstream comics' most prominent LGBTQ characters. She is also a distant cousin of Bruce Wayne, and was second-in-command to Batman's team in the most recent run of DC's Detective Comics series.
The series is said to follow this year's annual winter crossover, which will once again unite the characters of Arrow, The Flash, Legends of Tomorrow, and Supergirl in one multi-part episode. (Black Lightning, set in its own universe, is still separate from the "Arrowverse.") But while Batwoman is on the move, a Batman TV series (one that isn't an origin story like Gotham) is still being evaded, likely an effort to maintain the integrity of the blockbuster film IP.
But you can probably expect a few mentions of Kate's cousin, now that a member of the extended Wayne family is joining the rest of the Arrowverse.
There is no premiere date yet for Batwoman, as it's still in the early, early stages of development.