Bring on Benicio del Toro vs. Donnie Yen in 'Star Wars VIII'
Unraveling the curious racial politics of the epic series.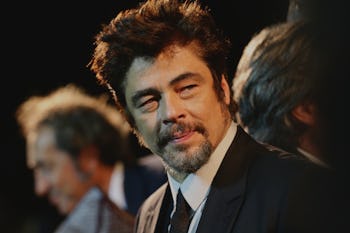 Getty Images
Oscar-winner Benicio del Toro may be terrorizing a galaxy far, far away in Star Wars VIII.
According to The Wrap, the actor has likely signed on to play a villain in the Rian Johnson-helmed Star Wars sequel, due out in a couple of years. Johnson previously directed the trippy time-travel thriller Looper, which was about Joseph Gordon-Levitt looking like a younger Bruce Willis.
Discussion are "still in the very early stages," but I hope he agrees and signs on because Benicio del Toro would rock so much in Star Wars. From Fear and Loathing in Las Vegas to The Usual Suspects to Guardians of the Galaxy, del Toro is a chameleon, distinct enough to make any role his own. He's gruff and raw-hewn, at turns trustworthy and paternal and slimy, often all at once.
There are better examples, but I can squint my eyes watching this scene from and see a conniving, sneaky intergalactic monster (or whomever he may end up playing) and I get very excited.
Of course, it was probably his brief role as The Collector in Guardians of the Galaxy that got the Star Wars casting team putting his face on their clipboards.
Alongside del Toro's possible casting are rumors that Donnie Yen has been cast as a heroic Jedi in the same movie. These are healthy rumors — unconfirmed, yes, but alive and kicking. If they happen to be true then Star Wars VIII could be nothing short of incredible.
Two prolific actors and international stars staring down each other in Star Wars. No, no one knows what VIII will actually be about, but thinking about Yen and del Toro in one movie is more exciting than anything else I've heard about The Force Awakens.
Despite its ubiquity in pop culture, Star Wars has long suffered from a race problem. The movies didn't do enough to cast people of color in roles that matter. While the new ownership over Star Wars comes with its own baggage, the reinvigoration of the franchise is a chance to rectify what has been almost 40 years of a mythology that has remained overwhelmingly white, except in the case of characters who are green, abominably furry, or disconcertingly reminiscent of ugly stereotypes.
Symbolically, actors of Hispanic and of Asian (and African American) descent in Star Wars mean a great deal to young fans who want to see characters who look like them in their favorite movie. That's all fine and good. I'm just geeked that those actors also happen to be bona fide badasses.