Facebook VP Apologizes to Trump-Supporting Duo Diamond and Silk 
Who isn't Facebook apologizing to these days?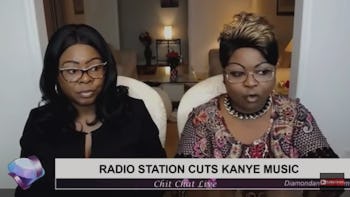 YouTube
Diamond and Silk, one of President Trump's favorite pair of YouTube cheerleaders, have gained a reputation for spinning the truth, after telling multiple lies to Congress, including one concerning their interactions with Facebook. But Tuesday, the pair got a surprising apology from the Vice President of the social network after it's faced increased accusations of political partisanship.
The apology appears to be a part of Facebook's larger effort to rehab its reputation following the Cambridge Analytica scandal, and the political turmoil that followed.
The Apology
The apology came from Facebook's Vice President for Global Policy Management Monika Bickert in prepared testimony that she delivered to the House Judiciary Committee in a hearing "examining the content filtering practices of social media giants."
I know that the Committee recently had the opportunity to hear from Ms. Hardaway and Ms. Richardson, the video bloggers better known as Diamond & Silk, who use the Facebook platform to communicate with their many supporters. We understand their frustrations over some past communications with our team, and we recognize that we mishandled their concerns. We apologized to them at the time, and I'd like to extend my own personal apology to them again today. While they were never banned from the platform, the message they received on April 5, 2018 that characterized their Page as "dangerous" was incorrect and is not reflective of the way we seek to communicate with our community and the people who run Pages on our platform. We recognize that we've incorrectly removed content on the other end of the political spectrum as well, and we know these incidents often garner significant public attention. We have learned from these experiences, and although we will never reduce the number of errors to zero, we are committed to improving further in this area.
Despite the pair dragging Facebook through the mud and accusing them of political censorship, Facebook has embarked on an apology tour for its Cambridge Analytica misdeeds, and now, it apparently includes what happened with Diamond and Silk.
The Feud
Diamond and Silk began feuding with Facebook after their account was seemingly restricted, being deemed "unsafe to the community." The pair quickly took to their other channels to accuse Facebook of political censorship, and went on a media blitz, claiming they were banned from Facebook and had received no communication from Facebook addressing the matter.
Later, Business Insider reported that Facebook had in-fact reached out to the pair on multiple platforms days before their media spree, attempting to address what they say was an enforcement error. Facebook added that they had actually never banned the pair, but just sent them an incorrect message.
The feud continued as Diamond and Silk maintained their timeline of communication despite contrary evidence when testifying in front of Congress. They also lied about taking money from the Trump campaign.
Even after Tuesday's apology, Diamond and Silk have continued to accuse Facebook of censorship. After Facebook's testimony, Diamond and Silk retweeted a clip of them accusing Facebook of continued censorship on Fox & Friends.
Why Now?
Facebook has previously apologized for the miscommunication, saying they were "incredibly sorry" for the incident, which makes the reiteration even more pointed. Why does Facebook feel the need to apologize again, despite Diamond and Silk persistently twisting the timeline of the dispute?
As the House hearing illustrates, social media companies are coming under increased pressure from Republicans over perceived political censorship, and the case of Diamond and Silk appears to be their pet project. A Change.org petition started by the pair called "YouTube Should Support The Right To Free Speech Without Censorship and Discrimination," has gotten over 46,000 signatures. Facebook has faced the same accusations from the pair, not helped by the fact that former Facebook employees told Gizmodo that they engaged in political censorship when working with the news module.
A June 2018 Pew study found that these campaigns appeared to resonate with people, finding that 72 percent of Americans think that Facebook and Twitter censor political content. Republicans were more suspicious than average, with 85 percent of respondents believing that Facebook and Twitter engaged in political censorship.
Those numbers, combined with continued campaign from personalities like Diamond and Silk, pose a serious problem for Facebook, who is already facing public scrutiny in the wake of the Cambridge Analytica scandal.
While not directly tied to the scandal, the political interest in the accusations of political censorship against Facebook make them just as serious for the company and explain why they've begun using a softer tact around the issue, in the same fashion that they have with data privacy.