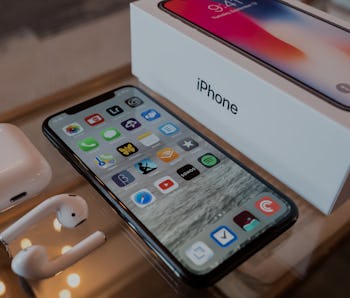 Innovation
New iPhone 9 and iPhone X Leaks Appear to Confirm Budget-Friendly Features
The iPhone X may get two new additions.
Unsplash / Drew Coffman
A new iPhone leak appears to confirm the company's plans to launch three new devices this year — and it's great news for those on a budget. Benjamin Geskin, a prolific Apple leaker that revealed details of the iPhone X prior to release, shared a photo on Tuesday of three new display panels that suggest the company is bringing its bezel-reduced design to lower price points.
The photo shows three panels that are 5.8 inches in diameter, 6.1 inches, to 6.5 inches. While the 5.8-inch panel matches the size and aesthetics of the iPhone X — suggesting an updated version of the $999 phone will launch this year — it's the other two panels that show new ground for Apple. The 6.1-inch device is rumored to serve as the company's more discounted model, with analyst Ming-Chi Kuo claiming the phone will cost $700 and offer face recognition and other features. To cut down on costs, the phone would also skip premium additions like an OLED-based screen and a dual camera. The 5.8-inch model may drop by $100, leaving a new 6.5-inch model at $999 with premium features like dual SIM card support.
The 6.1-inch model could claim the same price point as the 4.7-inch iPhone 8, the $699 phone that launched alongside the iPhone X but with a similar design to the iPhone 7. The release would bring a giant display and Face ID at a far cheaper price point. Kuo also suggested the phone could come in an array of colors that includes grey, white, blue, red and orange.
What's unclear though is how the screen will look without the OLED screens of its more expensive alternatives, which enable the "notch" to fade into the display by switching off individual pixels. A report last week suggested Apple would use a 0.3t LED chip to reduce the connectors from 4-4.5mm down to 2-2.5mm, which would break new ground as most phones use 0.4t chips. Geskin's leak, however, suggests the 6.1-inch phone will offer 5mm bezels, compared to the 4mm bezels found on the 6.5-inch model.
Apple is expected to unveil its new lineup of smartphones in the fall, alongside the iOS 12 update that will bring improved Siri, changes to CarPlay, and a faster overall responsiveness.
Apple's iPhone strategy is about to take on a whole new level.