New 'Aquaman' Image Is Basically 'Free Willy,' But Badass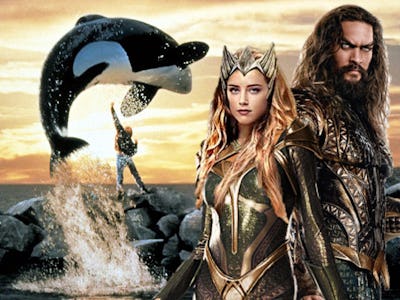 Warner Bros. Pictures
The highly anticipated trailer for Aquaman will finally debut at some time during San Diego Comic Con this week, but director James Wan offered fans a small preview of the underwater action that's coming when he tweeted a picture from the trailer on Sunday. It looks glorious, unabashedly comic-book-y, and even somewhat mythic. Also, it looks like that scene from Free Willy.
Wan didn't just tweet a still from the trailer, he posted a photo of the editing bay in which the trailer can be clearly seen up on the big screen at the front of the room.
"Working overtime to put the finishing touches for this coming week!" he tweeted, adding "Eeeeeee 😬 #SDCC2018."
The picture shows a man dressed in golden armor, and green boots, gloves and a cape, standing on a rocky outcropping overlooking the sea and raising his trident as humpback whales breach before him. It could be Aquaman (Jason Momoa), though the costume is a little different than the one we're used to, and the trident has three prongs compared to the five-pronged weapon Aquaman used in Justice League. Perhaps it's his father, a theory that's supported by the epic filter on the image, which resembles the painting-like expository parts of Wonder Woman recounting the origins of the Amazons.
Also, it's hard to see anybody standing on some rocks while whales jump into the air without thinking of that iconic scene from Free Willy, a 1993 family film that was also made by Warner Bros., the same studio that's making Aquaman.
The Aquaman trailer will come out sometime this week, so we'll have a better idea of what to expect from the movie. In the meantime, here's an embed of "Will You Be There," the Michael Jackson song from Free Willy.
Aquaman comes out on December 21, 2018.