'Fortnite' Season 5 ARG: New Audio and Agent's Notes Lead to More Questions
More clues but no solution.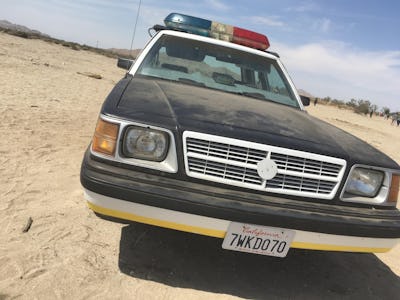 Inverse
Last week, Fortnite invaded the real world as a giant Durr Burger sign appeared in the California desert in what appears to be the start of an alternate reality game (ARG). As more fans of the game attempt to solve the ARG, more questions continue to pop up.
Wednesday is the final day for the Durr Burger site in the California desert approximately an hour and a half away from LA. As the last day, more people visited the area, and one person was able to get a partially blocked shot of the so-called "agent's" clipboard filled with notes and a doodle.
The notes that can be partially read say, "last one to vibrate" and "top is still orange." Neither gives much help to solving the ARG.
A YouTuber streamed their visit to the site and he received something special from the agent: a giant sesame seed. Maybe it came off the giant Durr Burger.
Lastly, when people first met with the agents at the site, the "agent" gave a card with a phone number to call. Those who called heard a recording of sounds that contained a hidden message. What Fortnite sleuths found today was there are options to press when calling the phone number. By pressing the number three, a new audio was made available that has a new code hidden within it. One Reddit user found this code when analyzing the audio.
Unfortunately, the code has yet to be linked to a location like the previous ones.
So far, the Fortnite ARG has many game detectives stumped. It's unclear on if this will be ongoing or if it will end with the launch of Fortnite Season 5. Fans will have to wait until Thursday when the new season starts to see if more clues will be released.
The Durr Burger wasn't the only bit of Fortnite that invaded the real world. Supply Llamas started showing up on Monday across Europe and no one knows why.