Airbnb's Racial Footprint May Be More Uneven Than We Thought, Study Says
"We can't say for sure it's the result of racism. Our next step is to figure this out."
by Josie Rhodes Cook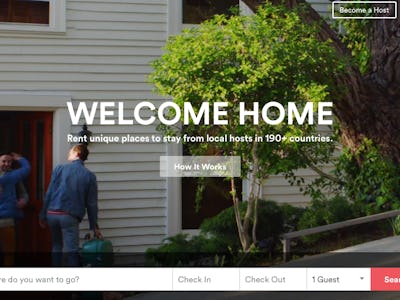 Wikimedia / Valeriesophie
Airbnb has long been maligned as a business built on gentrification, taking up valuable real estate in low-income, racially-specific neighborhoods and renting to wealthy tourists. Now, a new study shows that its economic effects may favor one racial group more than others.
While tourism activity in areas with more Airbnb rentals might spill over into industries like the restaurant business, neighborhoods that are predominantly Black or Hispanic don't see the same impact, according to the new study. It's possible that this effect could be exacerbating gentrification and racial disparity.
When it comes to Airbnb helping local economies, Mohammad Rahman, the author of the study and an associate professor of management at Purdue University's Krannert School of Management, said, "We do not find any evidence of that economic spillover effect" in Black neighborhoods, EurekAlert reports. In fact, in neighborhoods where 50 percent or more residents were of Black or Hispanic origin, the spillover effect was not seen.
Rahman and doctoral student Mohammed Alyakoob studied the "heterogeneous economic spillover effects" of Airbnb on the overall growth of restaurants, and found that restaurants in places with a fairly high number of Black residents "do not benefit from the economic spillover of Airbnb activity," according to their working paper in the non-peer-reviewed Social Science Research Network, "Shared Prosperity (or Lack Thereof) in the Sharing Economy."
The researchers discovered that neighborhoods with rapid Airbnb growth usually saw a growth in restaurant employment. Those places also experienced a rise in Yelp reviews by visitors to New York, The Washington Post reports.
But restaurants in predominantly Black or Hispanic neighborhoods with higher rates of Airbnb bookings did not see a corresponding increase in both employment and Yelp reviews.
The research initially looked at the impact of Airbnb on restaurant employment growth in New York City, which is the most visited as well as the most active Airbnb city in the United States.
Although Airbnb claims that "Airbnb travelers stay longer and spend more in diverse neighborhoods," and that its community benefits local economies by supporting local businesses, that doesn't seem to be the case in Black neighborhoods, Rahman said. Rahman explains that Airbnbers in minority neighborhoods may simply be spending their money elsewhere:
…people staying in minority neighborhoods probably don't walk around, wander around and spend their money. They're happy to stay in such areas because it's a cheaper alternative, but they possibly don't feel comfortable going out, or the restaurants don't match their preferences. We can't say for sure it's the result of racism. Our next step is to figure this out.
Researchers used the same process they used to analyze New York City to study five other U.S. cities — Austin, Chicago, Portland, Los Angeles, and San Francisco — and came up with similar results.
The study seems to show that Airbnb may bring unequal benefits to local economies, or at least local restaurant economies, in white neighborhoods compared to predominantly Black or Hispanic communities, no matter where those neighborhoods are in the country.
This is in contrast to the company's repeated claims that its rentals benefit diverse communities. In March 2018, Airbnb's head of public policy, Josh Meltzer, claimed that Airbnb could be a boon to minority communities in New York City:
For generations, communities of color were cut off from the economic opportunity of New York City's tourist economy. From our national partnership with the NAACP to our local work with the Harlem Business Alliance, MPAC (Mobilizing Preachers and Communities), and the Brooklyn Chamber of Commerce, Airbnb is committed to working with communities to bring the benefits of tourism to families and businesses in their backyard.
In a statement, Airbnb's director of public affairs, Nick Papas, tells Inverse that the company believes the study is flawed, suggesting that the study should have compared Airbnb's footprint to that of traditional hotels, which the company claims are more unevenly distributed: "Airbnb undoubtedly boosts local businesses — Airbnb generated $2.8 billion in economic activity in New York City in 2016 — but using a subjective and voluntary input like Yelp reviews to draw conclusions in what purports to be a rigorous analysis is wrong and this study is deeply flawed."
Papas claims that "Meanwhile, in New York's predominantly Black neighborhoods, Airbnb guest arrivals are growing faster than they are citywide and hosts are earning more than $70 million annually."
According to AirbnbCitizen, the company generated $60 million in mostly Hispanic NYC neighborhoods in 2016, $70 million in mostly Black NYC neighborhoods in 2017, and $20 million in mostly Chinese NYC neighborhoods in 2017.
Despite this, the study suggests that any benefits of tourism that Airbnb may bring outside of lodging are affected by white privilege.
Even more disturbing is the realization that this effect may contribute to the acceleration of gentrification and racial disparity.
This article has been updated with a statement from Airbnb.