Airbnb Launches Measures to Trounce Racism With Technology
New changes might not be enough to keep disgruntled users on the platform.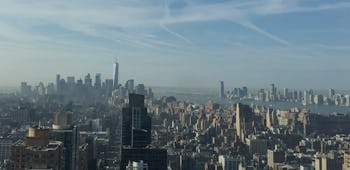 Airbnb
After months of inaction, Airbnb outlined a plan on Thursday to address mounting criticism of discrimination on the platform. The measures arrive nearly five months after a California man filed a class-action lawsuit against the company for racial discrimination in May.
"As a founder, I think we were late to this issue," CEO Brian Chesky told reporters at the Fortune Brainstorm Tech Conference in July.
In the report, Airbnb announces it has developed anti-bias training for both employees and hosts. The training will be made available to hosts beginning in November. All hosts must now consent to the platform's new anti-discrimination policies, but participation in the training is not mandatory. Rather, the company will "highlight hosts" who have completed the training. All Airbnb employees will be required to complete the new training by January 2017.
On the front-end, Airbnb's new design will reduce the prominence of guest photos
"After thoroughly analyzing this issue, I came to believe that Airbnb guests should not be asked or required to hide behind curtains of anonymity when trying to find a place to stay," writes report author Laura Murphy, former director of the American Civil Liberties Union's Washington legislative office. "Technology can bring us together and technology shouldn't ask us to hide who we are."
Instead, Airbnb will emphasize "reputation enhancing data" such as reviews and identity verification to reduce the potential bias. In a partnership with Stanford, Airbnb found that reputation systems could "significantly extend the trust between dissimilar users." However, the study did not include race as a metric.
Airbnb will also work to increase the number of Instant Book listings on the site
But not all of Airbnb's critics are thrilled with the changes.
"I think for people, myself included, we're going to ask what took so long," Rohan Gilkes, entrepreneur and founder of peer-to-peer rental platform Innclusive, tells Inverse. Gilkes wrote a Medium post outlining the racism he experienced while attempting to book an Airbnb in Idaho.
Gilkes' story went viral and brought to light a common experience for many minority Airbnb users, as demonstrated in the Quirtina Crittenden's Twitter trend "#AirBnbWhileBlack" and the subsequent advocacy campaign.
While he says Airbnb's new prioritization on diverse hiring practices and less emphasis of profile pictures could help, Gilkes still doesn't think the plan goes far enough.
"If you have photos before the confirmation, you're going to continue to have a bias" he tells Inverse.
Researchers at Harvard University have found that having a black-sounding name could increase rejection by rental properties by up to 16 percent.
Innclusive, which was founded to combat the discrimination marginalized groups face on other platforms, has modeled itself after Uber and will only reveal full user information after a booking in confirmed. Gilkes believes Innclusive's model will be just as effective at creating a sense of community.
Additionally, Innclusive will use algorithms to analyze transactions and weed out hosts who cancel their bookings at a higher than normal average. Innclusive, which will launch later this month, already has over a 100,000 users.
Airbnb's plan for increased diversity extends to its hiring practices. For example, it will implement a policy mandating that all candidate pools for senior level positions at Airbnb include women and minorities.
The company has also hired a full-time team of "engineers, data scientists, researchers and designers whose sole purpose is to advance belonging and inclusion and to root out bias."
Airbnb representatives have not responded to our questions but we'll update this story when they do.