Racist Airbnb Host Hit With Large Fine, Mandatory Coursework
The hospitality company wasn't having Tami Barker's casual racism.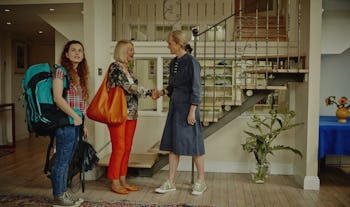 AirBnB
Airbnb has finally caught its first racist since agreeing to hunt them down back in April. After negotiating with the city of San Francisco's Housing Authority, the company finally relented, agreeing to test among its hosts for racial discrimination. Even subtle micro-aggressions might have been on the table, but in the case of Big Bear, California's Tami Barker, some hosts are apparently just straight-up assholes.
When 26-year-old Dyne Suh attempted to reserve Barker's mountain cabin for a ski trip in February, Barker cancelled the reservation via text message just before Suh, her fiancé, and their two friends were due to arrive. Barker sent the following texts:
I wouldn't rent it to u if u were the last person on earth
One word says it all. Asian
Well, in Barker's case, one word says it all: fucked.
Airbnb and the California Department of Fair Employment and Housing (DFEH) slammed Barker with a $5,000 fee, a mandatory college-level course in Asian American Studies, and volunteer hours with a civil rights organization and a community education panel. Barker is also responsible for a personal letter of apology to Suh, and she has been banned from the Airbnb platform for life. The extent of the punishment is so severe that it would be hilarious if racism wasn't such a serious problem in the United States. Even the DFEH admitted to The Guardian, "We were thinking pretty creatively with this agreement. […] We're interested in remedies that repair harm and transform relationships."
The fact that Barker assumed she could deny her home to anyone based on race is pretty surprising; she made no attempt to hide the reason she was canceling Suh's reservation with minutes to spare. When Suh tried to threaten to report her to Airbnb, Barker answered, "It's why we have Trump … and I will not allow this country to be told what to do by foreigners.""
Suh published a gut-wrenching video account of her predicament, standing in the falling snow with her friends, stranded in Big Bear after hours of driving.
As for Airbnb's new anti-racism initiative, it seems to be working at full intensity. The problem was initially brought to light by users on the hashtag #AirbnbWhileBlack, who tweeted out personal accounts of being harassed or discriminated against by previously unpunished hosts. Though the hashtag reached nationwide status, only California has successfully set up countermeasures to combat racist hosts.
Just this week, a video uploaded from Amsterdam revealed a white Airbnb host pushing his guest, a South African woman named Sibahle Nkumbi, down a flight of stairs, knocking her out cold because she was allegedly late checking out. The host also screamed "this is not Africa!" at Nkumbi, who reached out to Airbnb after she woke up in the hospital.
Though Airbnb's P2P (person to person) business setup allows for flexibility, it does leave a gaping wide hole for hosts' racial bias and internalized racism to shine through. Hopefully, cases like Suh's will be handled with a similar amount of severity, setting a precedent for more platforms whose loose structure allows for bias to fester. There will always be cases like Nkumbi's, which involve legal charges of assault, but for more subtle racist incidents like Suh's, Airbnb will have to work with local authorities to figure out where the law gets involved.
See also: "Airbnb Hosts Are Also Far Less Likely to House People With Disabilities"