Amazon Prime Day: A Union Walkout in Spain Is Prompting Activists to Boycott 
'Alexia, unionize the workplace.'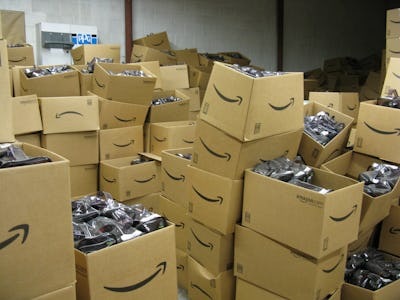 Flickr / thisisbossi
Jeff Bezos, Amazon CEO and richest man in the world, has a problem: his workers, globally, are not happy with him. Stories about unfair treatment in warehouses, skyrocketing pay gaps, and now, union strikes, have plagued Amazon's seemingly neverending success story.
This year, the controversy may impact one of the site's biggest earning opportunities — Amazon Prime Day. On July 16, the site will offer its Prime membership holders deals on everything from tech products to groceries, furniture, video games, audiobooks, you name it. But some activists want to support Spanish Amazon workers who are striking on Prime Day by refusing to visit the site or any of its affiliates.
The boycott started on July 10, six days before the 3 p.m. Eastern Prime Day start time on July 16. Now, some are intending to continue the boycott through Prime Day.
The physical strike, taking place on the outskirts of Madrid, where one of Amazon's biggest European warehouse suppliers is located, will coincide with Prime Day, according to The Independent. Spanish unions have organized at least 1,000 workers to plan a mass walkout, and have encouraged other European Amazon employees to do the same. That's where the support on social media stems from, with US participants trickling in.
Bezos is worth roughly $132 billion. Even though his official Amazon CEO salary only comes out to about $82,000, that's still multiple times the median Amazon employee earnings, which only amount to $28,500. That's below the US poverty line. The Intercept has reported that a third of Arizona's Amazon employees are on food stamps. The major gains in stock and acquisitions aren't going to the workers, while Bezos racks up more money than should be humanly possible.
Amazon has notably attempted to stifle union action to prevent legal backlash from highly publicized scandals, like workers peeing into bottles because they can't afford the time it takes for a bathroom break. Under intense pressure from management, Amazon employees keep voting against unionizing, which is why Spain's move is unprecedented compared to their US counterparts.
It's a safe bet that whatever happens in Europe isn't going to have that much of an effect on online shopping. Last year, 34 million items were purchased on Amazon Prime Day, with nearly 400 items purchased every minute. Some online activists have urged their followers to shop alternative sites instead, while others recommend canceling Prime memberships altogether. But these efforts haven't gained enough viral traction to put a dent in Amazon's numbers.
Whatever happens this week in warehouses will probably set a more persuasive tone for how Bezos plans to discourage — or reach a compromise — with employees hoping to unionize in the future. And with Amazon being the fourth-largest company in the US, it's unlikely that a massive boycott is going to happen and create meaningful opposition to the brand.