William Shatner Feuding With Native Americans Over Children's Book Award
By blocking people en masse, Shatner is committing the same censorship he argues against.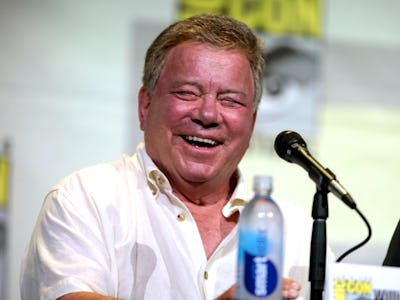 Flickr / Gage Skidmore
William Shatner, best known for his role as Star Trek's Captain Kirk, has been busy crafting another legacy composed of outrageous Twitter feuds. Now, with a flurry of blocks, Shatner is engaging with a drawn out Twitter war with Native American activists over the Children's Literature Legacy Award, formerly known as the Laura Ingalls Wilder Award.
The ugly feud deepens Shatner's history of mass Twitter blocking (Shatner blocked a majority of the Inverse newsroom in 2018) seemingly based on his own political beliefs and a war on political correctness, and is another example of the star's willingness to defend relics of history that have been deemed too controversial, and racist, for memorialization, such as when he defended a Confederate statue that he partially funded.
The Laura Ingalls Wilder Award
The drama all started to unfold after Shatner took to Twitter on June 30, as he often does, to complain about political correctness. This time his target was the children's book prize formerly knows as the Laura Ingalls Wilder Award.
On June 23, the Association for Library Service to Children (ALSC) renamed the award after discussing multiple instances of racism against Native American in the Little House books. In particular, lines suggesting that Native Americans aren't human ("there were no people. Only Indians lived there." ) and images of blackface, have been singled out.
The news quickly circulated and was used on the Conservative web as another instance of political correctness, one of William Shatner's pet peeves (online at least).
Fighting Words
Shatner, who claims to keep politics off of his Twitter feed (despite posting vaguely political tweets himself), was quickly inundated with mentions from Native American activists and allies.
Quickly, Twitter sleuths dug up a now-deleted tweet where Shatner referred to Rene Auberjonois as an "injun," a racist slur for Native Americans.
Shatner tried to brush away the tweet, noting that it was two years old and adding context, but critical tweets kept coming.
As more people began tweeting at him, Shatner began blocking Native American activists and their allies. The effect and consequence was that increasingly loud Native American voices on Twitter were accusing Shatner of blocking people based on their race, and they were at least partially right.
It Gets Messier
If this wasn't enough drama for you, the online feud got even crazier after Professor Ebony Elizabeth Thomas of the University of Pennsylvania tweeted at Shatner, telling him to "stay in his lane."
Adding more fuel to the fire, Shatner went on to respond to Thomas and another professor by tagging their universities and asking them to "look at the content of their faculty online." Obviously, this just stirred the pot.
Shatner's Belief-System
Shatner's tweets fall in line with an online belief-system that he's already established on Twitter against "political correctness."
In August of last year, shortly after a White Nationalist rally killed one in Charlottesville, Shatner became embroiled in a dispute over a Confederate statue. Shatner reportedly helped fund a statue of Confederate General John Castleman in Louisville, Kentucky.
When calls began to take it down, in the wave of similar calls around the country, Shatner took to Twitter to defend the statue, saying that "some are only focusing on his time in the Conf army." Castleman is also apparently well known in the equestrian world that Shatner is also known to inhabit.
The controversy has striking similarities to the prize renaming hubbub that Shatner is also a part of — both revolve around Shatner defending relics of history that have been deemed too controversial, and racist, for memorialization.
While Shatner is certainly tapping into a larger cultural dialogue that's examining how to treat our idols and symbols in a culture of shifting norms and understanding, by blocking people en masse he's essentially committing the same type of censorship that he's complaining about in the first place.