William Shatner's Reddit Tweetstorm Verged Into Weird Internet Territory 
Does Captain Kirk read 4chan?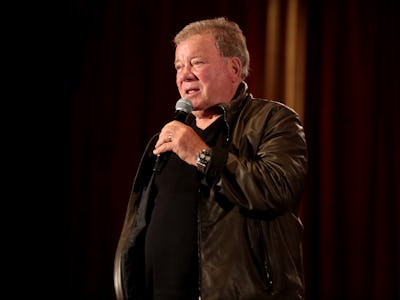 Flickr / Gage Skidmore
Actor William Shatner, famous for his role as Captain Kirk in Star Trek, revealed a deep connection to internet culture Wednesday when he tweeted dismay shortly after Reddit began to experience site-wide disruptions, but his tweetstorm may have unearthed something more unsavory than an innocent penchant for Reddit.
Shatner began what would become a lengthy tweetstorm by writing "@Reddit is down! The cyber world has fallen!" during the peak of what would a be minor disruption to the website around 4:17 p.m. Eastern.
Shatner's tweets quickly revealed a deeper knowledge of the dark side of the web when he went on to joke about the toxic image board 4chan, which plays host to some of Donald Trump's most fringe supporters, writing that he was "up on kek."
The nods to 4chan and "kek" could simply show a deep wealth of internet knowledge, but they could also point to an affiliation or familiarity with dark, alt-right corners of the web. 'Kek' was originally used as a variation of 'lol' in gaming chat rooms, but like Pepe the Frog, has morphed into an alt-right symbol.
According to the Southern Poverty Law Center, Kek can refer to an ironic white nationalist "deity":
Kek, in the alt-right's telling, is the "deity" of the semi-ironic "religion" the white nationalist movement has created for itself online — partly for amusement, as a way to troll liberals and self-righteous conservatives both, and partly to make a kind of political point.
Shatner has previously indicated a familiarity, if not identification, with the conservative internet. In July 2017, Shatner asked on Twitter "Why is it that SJW's think they can align themselves with those that demanded social reform in the '60's?" He also touted that he used the words "snowflake" and "misandry," which are common buzzwords of the conservative web.
Before you angrily repost this, it's important to note that Shatner's political history is anything but cut and dry. Shatner has publicly supported PETA and gay rights, both of which at one point or another have been the mocking objects of conservatives.
Shatner has also defended the fringe right-wing at times, showing sympathy with some aspects of the harassment campaign GamerGate and interviewing Rush Limbaugh on his talk show in 2009 to argue about health care. In February, Shatner demanded that a Texas Democrat stop using a picture that she took with him in campaign materials. Shatner also appeared on Libertarian-leaning Jesse Ventura's talk show, where he discussed finding a political middle ground.
While Shatner still seems to be cogent at 87, it's important to note that with his age and stature it's entirely possible that he has a social media manager controlling his presence online. When contacted on Twitter for comment on this, Shatner blocked me.
Despite Shatner's proclivity to stoke political tension on Twitter, the star has avoided doing the same on Reddit, where he began posting in 2013 for an AMA. Throughout his Reddit history, most of his posts have been related to 'Star Trek' or other nerdier interests. In his AMA, however, he called out "racists" and "hate mongers" on the platform. We hope he'd still do the same today.