Revolut Teases U.S. Plans as Over 2 Million Join Digital Banking App
Nikolay Storonsky describes the expansion as "a huge project."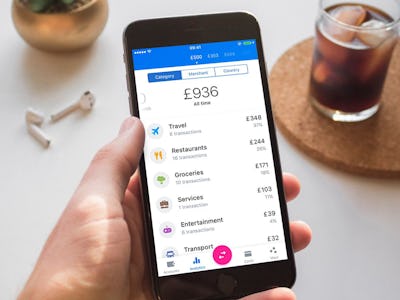 Revolut
Revolut, the rapidly growing firm taking on traditional banks, is going stateside. The smartphone app offers a checking account that does away with the fusty conventions of yesteryear by offering easy budgeting tools, cheap currency conversion and cryptocurrency management. The London-based firm announced on Thursday that it now has over two million users in Europe, and it's now got big plans to take its app to other parts of the world — including the United States.
"U.S. expansion is a huge project for us, and we're excited to launch in a market with so much potential," Nikolay Storonsky, founder and CEO of Revolut, tells Inverse. "As we reach one million users in the U.K., and over 2.25 million across Europe, we are extremely confident that we will experience even higher demand across North America."
The firm is one of a number of so-called "challenger banks," an informal grouping that also includes firms like Monzo and Starling. These have upended the United Kingdom's consumer banking sector by offering online-only services, managed through sleek smartphone apps. These apps offer unique features normally found in tech startup products — Starling, for example, offers a visual pie chart of a user's spending with real-time notifications for every transaction.
Revolut has big plans to bring this formula to the rest of the world. The company has offered early access to its United States since September 2017. Later this year it's expected to fully launch in the country, with launches also planned this year in Canada, Hong Kong, Singapore, Australia and New Zealand. The company plans to offer instant, free, global transactions at the launch of this expansion, a process that currently takes between three and five business days.
"The U.S is far from immune to expensive banking fees and poor banking technology," Storonsky says. "As the world becomes more hyper-connected, it's important that consumers have a financial partner just as progressive. We're confident that we have the solution for this everyday problem."
Revolut, available to customers in the European Union and European Free Trade Association, offers free currency conversions that use the interbank rate, providing money transfers to over 120 countries and over 130 currencies with savings of up to eight percent compared to other methods. It also offers payment of contacts, rounding purchases to the nearest figure for saving goals, and other budgeting tools.
Unlike Monzo and Starling, Revolut also offers cryptocurrency purchases. Users can buy, sell and exchange 30 different coins — although the feature has received criticism from the cryptocurrency community as it does not support transferring coins to wallet addresses.
Revolut has made a storm so far. The company claims that customers have made over 125 million transactions to date, with a total volume of $18.5 billion, and users have saved over $740 million in traditional fees.
But while it's managed to make an impression on the British banking scene, it remains to be seen whether the "challenger banks" will have the same effect on the United States. With cryptocurrency apps like Abra and Coinbase also looking to upend traditional financial practices, plus the likes of Venmo and Apple Pay Cash simplifying payments between friends, a race is emerging to see who can attract customers with the most compelling vision of the financial future.