How to Set Up Apple Pay Cash on Your iPhone
The so-called Venmo killer is here.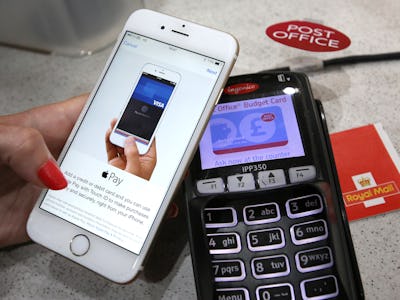 Getty Images / Peter Macdiarmid
Apple Pay Cash is officially here to give Venmo a run for its — well, your — money.
After launching in beta this past summer, the feature officially rolled out as available for all users over the weekend with the release of version 11.2 of the iPhone iOS. An extension of the existing Apple Pay app, the Cash feature allows users to send and receive money as they would with Venmo or other third-party payment apps.
Apple's version of a person-to-person payments platform, Apple Pay Cash is compatible between all iOS devices. All you need to start using the cash-transfer feature is to turn it on through your iOS device's settings.
That's simple enough. First, make sure you have updated your device to the 11.2 version of the software. If you're not sure, go to Settings, then General, and then check Software Update. The iO2 11.2 update is all about Apple Pay Cash, along with a few minor bug fixes and improvements.
Once that's done, go back into Settings and this time navigate to Wallet & Pay. There, select the option to enable Apple Pay Cash.
From there, you'll be prompted to set up your touch or face ID code if you hadn't already. Once it's all enabled and your debit card is on file, you can begin sending other iOS users cash using iMessage.
As we previously reported, Apple had first rolled out its Venmo competitor on iOS 11.2 beta 2, and now this official release finally places Apple in the personal payments ranks that include the popular Venmo and Square Cash apps.
"Sending money is as simple as sending a message," Apple announced on its official site. "Use your debit or credit card with just a touch of your finger or by asking Siri."
When you opt into Apple Pay Cash, Apple will also issue you your own virtual card. The "card" can only be used to send and receive money through the feature, along with transactions on the popular Apple Pay at retailers.
If you're a big Apple Pay user already, you'll appreciate that the new Cash feature will let you spend the money you receive right away at Apple Pay retailers, or pay someone else back. No need to wait until the money is transferred to your bank's checking account.
Longtime iMessage users may be pleasantly surprised by Apple Pay Cash's new look. The blue bubbles turn black when you use Apple Pay Cash, giving your payments and cash requests a unique look.
Apple has partnered with retail banker Green Dot to operate its new Apple Cash venture.