Tesla Model 3: Report Claims Elon Musk Is Skipping a Key Brake Test
The automaker has shifted gears.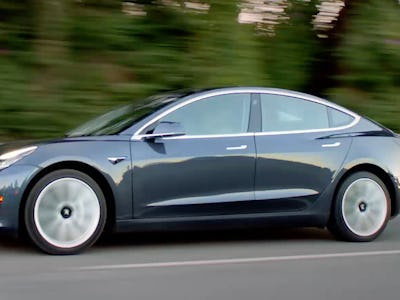 Tesla
Is Tesla skipping on the brakes tests to produce the Model 3? A Tuesday report claims CEO Elon Musk has personally removed brake and roll tests from the production process, a test described by industry experts as a critical part of the process — but the company claims the brakes in every car are tested as part of its track runs.
The Business Insider report claims that the company stopped performing the test on June 26 at sometime before 3 a.m. for unknown reasons. Manufacturing author Ron Harbour claimed to the publication he was unaware of any suitable replacement test, and that by abandoning the test, "you could potentially have a lot of quality issues with your customers."
The news comes as Tesla races to convert hundreds of thousands of $1,000 reservations into Model 3 vehicles starting at $35,000. The vehicle entered production in July 2017, and while Musk initially suggested the company would reach a production rate of 20,000 per month by the end of that year, the company ultimately produced around 202 per week in the fourth quarter. Tesla has rapidly turned things around, reaching 2,000 per week by April and a staggering 7,000 in one week by the end of June.
Tesla confirmed that the test in question was stopped, but that's because the company tests every Model 3 on a track anyway to ensure it passes all manner of checks, including the brakes. The company also noted that other automakers use brake and roll to measure other factors like exhaust and engine functions, irrelevant in the production of an electric car. The Tesla Model 3 is produced on an advanced manufacturing process, with alignment measured with an in-house system on the third general assembly line that's more accurate than other automakers.
"Every car we build goes through rigorous quality checks and must meet exacting specifications, including brake tests," a Tesla spokesperson tells Inverse. "To be extremely clear, we drive every Model 3 on our test track to verify braking, torque, squeal and rattle. There are no exceptions."
Tesla has felt the pressure in getting the Model 3 out on time. It's pitched a tent and started a fourth general assembly line alongside the Fremont, California plant in the space of just two weeks. In between these efforts, Musk has posted comical images making light of Wall Street short sellers dismissing the company's prospects. During these efforts, Musk has claimed that the company was hit by internal sabotage during a fiery email exchange.
The company's expansion is moving at dramatic speed.