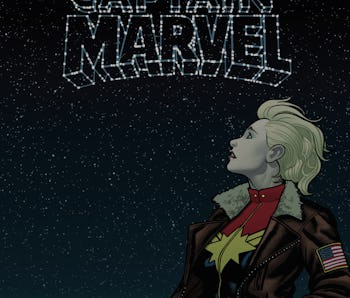 Entertainment
Rumored Leak Reveals Hulk and Captain Marvel's 'Avengers 4' Costumes
Marvel Entertainment
The Avengers may be down, but they're not out. New leaked images of alleged artwork for Captain Marvel and Avengers 4 showcase Brie Larson in full Captain Marvel costume, as well as Hulk sporting a new combat outfit and War Machine armed to the teeth with new upgrades. There's also Hawkeye, Rocket Raccoon, and Thanos, wielding a big scary Final Fantasy weapon.
On Thursday, images of Avengers 4 concept art leaked online and was shared by Twitter user @ajdesigns0220, a graphic designer from India. When another Twitter user asked where @ajdesigns0220 obtained the pictures from, they replied, "Found it on Weibo," referring to the Chinese social networking site.
The collection mostly features a likeness of actress Brie Larson in her Captain Marvel uniform, demonstrating some of her cosmic abilities of energy projection. Another tweet showing more artwork reveals Samuel L. Jackson looking younger, presumably from his upcoming appearance in Captain Marvel, which will be a period epic set in the 1990s.
There are also other images of the Hulk, in brand new combat attire, and Hawkeye, whose costume doesn't look as "Ronin-y" as fans initially speculated it might be. Even more images show War Machine in total Rob Liefeld-style armaments, Rocket Raccoon, Nebula, and Thanos, who is carrying a new weapon in addition to the Infinity Gauntlet.
Compellingly, the Infinity Gauntlet doesn't appear burnt out like it did at the end of Avengers: Infinity War.
The end of Avengers: Infinity War may have been one of the darkest endings in the entire Marvel film franchise, but it still ended on a tiny bit of hope as Nick Fury (Jackson) sent out a distress call for one Carol Danvers. Marvel fans will get to see Carol in action in 2019's Captain Marvel, which hits theaters a few short months before Avengers 4.
Captain Marvel will hit theaters on March 8. Avengers 4 will hit theaters on May 5, 2019.