Elon Musk Responds to Bizarre Copyright Dispute Over Farting Unicorn
Musk's admiration for the design quickly turned into imitation.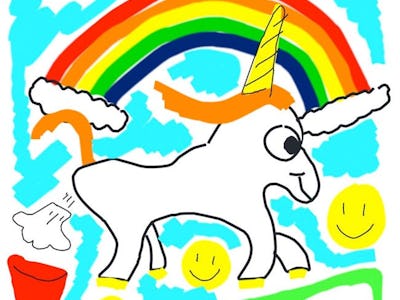 Twitter / Elon Musk
Elon Musk is making waves on Twitter again, this time over an existing intellectual property dispute that he's in over a farting unicorn. In the public feud with a small artist, Musk yet again finds himself defensively tweeting about a scandal involving his flagship Tesla brand.
The feud began with admiration, as many intellectual property disputes do. In February 2017, Musk tweeted out a picture of a mug made by Colorado artist Tom Edwards, featuring a unicorn farting into a funnel connected to an electric car. Musk called it "maybe my favorite mug ever."
Edwards appreciated Musk's initial tweet and the attention it brought, telling Westword that it resulted in about 100 sales. Quickly, however, Musk's admiration turned into imitation.
In a tweet, Musk shared a copy of Edwards' unicorn design supposedly done on a Tesla sketch pad (Musk would later attribute the drawing to Tesla super-fan Nik Jovanovic). Later, that drawing appeared in Teslas everywhere as the icon for the sketch pad.
Tesla would go on to use the drawing in their 2017 Christmas card to Tesla owners. Edwards claims he's received no money for Tesla's use of his image.
In May 2018, Edwards sent a letter to Musk's lawyer Todd Maron, seeking "a mutual decision in a way to value the past and continuing use of the image, in a way that both sides can feel good about." When the story was first reported, Edwards said he'd not received a response.
But early Thursday morning, Musk commented on the dispute for the first time, engaging in a Twitter debate with Edwards' daughter Lisa Prank. In now-deleted tweets, Musk said the drawing "was chosen randomly by software team as a joke (they didn't tell me in advance)… We can change it to something else if your Dad wants."
Musk continued, excusing himself and insisting that Tesla got no benefit from the art: "Was actually someone else's drawing of a unicorn on hidden Tesla sketch pad app & we gained no financial benefit. Have asked my team to use a diff example going forward. He can sue for money if he wants, but that's kinda lame. If anything, this attention increased his mug sales."
Currently, it's unclear how the dispute will be resolved. Musk says he's offered to pay Edwards (this hasn't been confirmed), but Edwards says he still hasn't received a response to the letter sent to Musk's lawyer.
In May 2018, Musk, who is dating the musician Grimes, defended artists, arguing on Twitter that talent receives "crazy low payout" from streaming services like Spotify. Time will tell whether or not he share the same philosophy for visual art.
Inverse has reached out to Tesla for comment and will update this article if we hear back.