Facebook Develops New Time Management Tool to Improve User Health
Time to put down the phone.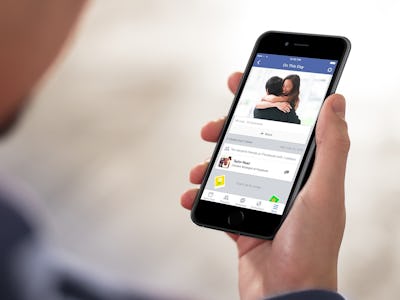 Facebook
Both Google and Apple dedicated a segment of their latest software events to discuss the need to reduce the time people spend on their smartphones and other electronic devices. Facebook appears to be doing the same, as evident with a new feature hidden in its app.
TechCrunch reported Saturday on a new feature buried in the Facebook app for Android phones. Called "Your Time on Facebook," users can see how much time they've spent on the app within the past seven days. People can also set a daily time limit and receive a notification when they've reached it. Your Time on Facebook is similar to Instagram's planned feature, Usage Insights, which makes sense as Facebook owns Instagram. Twitter user Jane Wong found both tools hidden in their respective apps.
Back in May, Google held its Google I/O 2018 event and presented a new initiative called Digital Wellbeing to help reduce the amount of time people use their phones by sending out reminders of when they're using an app too much and charting an app's usage. Earlier in June at WWDC 2018, Apple announced its Digital Health features that will be implemented in iOS 12. Like Google, the new operating system will keep track of users time on the phone and implement other options to make it easier for iPhone users to put down the phone.
In the case of the new Facebook feature, it appears to be a bit more casual when it comes to limiting time, unlike Google and Apple's, which both want users to put down their phones more often. It puts the onus on the user to decide when they've spent too much time. Still, all three tech giants' initiatives will attempt to reduce the phenomenon known as "fear of missing out," or FOMO.
There is no date on when the new "Your Time on Facebook" feature will go live, but the company did confirm that it was in development.
In a recent Pew survey, Facebook usage is on its way down with teens. Those surveyed instead spent more time on YouTube, Snapchat, and not surprisingly, Instagram.